Bidding on Benzaiten at Bonhams
Yesterday, my husband and I drove up to Oxford, the city famous for its spires... and academics who rig examination results for wealthy diplomats and then murder those who find out about it (yes, I do watch too much 'Inspector Morse'). The purpose of the visit was to add another Utamaro print to my collection, courtesy of Bonhams. The lot, advertised as 'after Utamaro' but a genuine Utamaro from around 1792-3 all the same, came home with me, along with a copy of Noguchi Yone's 'Hiroshige' and a couple of Indian silk paintings.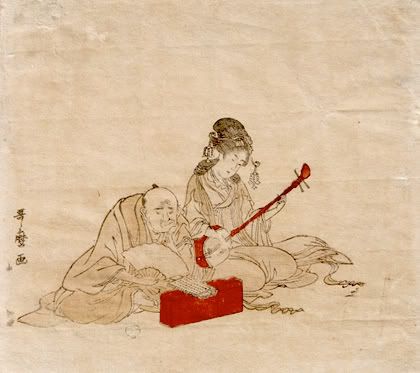 The print shows Benzaiten, the goddess of knowledge, music, poetry and art - one of the Shichifukujin (Seven Gods of Good Fortune: the seven being Benzaiten, Daikoku, Ebisu, Hotei, Jurôjin, Fukurokuju and Bishamon). As I'm an artist and writer, she is my favourite member of the group. She is shown playing a shamisen, alongside a man who, seated with fan in hand, is scrutinising the music book that has been placed upon the box before him. I love his facial expression... the furrowed brow and look of extreme concentration mixed with mild confusion. He looks like me when I'm filling in a crossword puzzle. 
About Gina
Gina Collia-Suzuki is a writer, artist and art historian based in the UK. Having developed a deep interest in eighteenth century Japanese art and culture at an early age, she began studying Japanese woodblock prints whilst training as an artist in the 1980s....
Causes Gina Collia-Suzuki Supports
PETA
The World Wildlife Fund
RSPCA
Cancer Research UK