An Interview with Pat Guppy - Part IV
'An Interview with Pat Guppy' for 'Her Ladyshipness Magazine'
Questions posed by Hyacinth Bootley-Smythe
Q: You are very busy arranging for your husband's memorial and so forth. Are you still managing to maintain your charitable works?
A: Of course. Nothing will ever prevent me from being selfless and tending to those in need. I have, within the past fortnight, attended no less than three charity dinners and two luncheons, all in aid of bus shelter number six on Sea View seafront. Someone painted the frontage a darker shade of green than those in its proximity, and viewed from ten feet away, in full sunlight, at an angle of about 36 degrees whilst standing on an orange crate, the difference is almost noticeable. I am campaigning to have that put right as soon as possible. There has been some delay in having the necessary paperwork pushed through, something about a shelter for homeless children taking priority, but I've insisted that everything be put on hold until the paint issue is resolved to my satisfaction.
Q: What are your plans for the future?
A: I shall go on doing my good deeds and inspiring adoration wherever I journey. Also, I have a new part-time job. I was asked to model clothes for the Buxom Seniors Home Shopping Catalogue, so I have to go into the studio once a week to have my photograph taken. As I mentioned before, people are quite taken aback by my face, so it didn't come as any great surprise that I was asked to do the job. I'm not terribly fond of the clothes I am required to exhibit upon my person; they're not the sort of thing I would normally buy, as I only ever purchase frocks from the top boutiques in London, but I believe the catalogue is intended for the less socially elevated. There isn't a tiara section at all.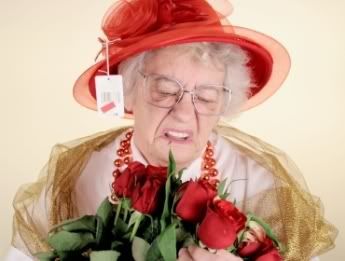 In addition to the modelling and charitable works, I am planning a tour of the States. I have heard recently that many Americans are as fond of me as the good people of Britain, so I do think it only fair that I make myself available to them. I shall be staying with ex-President Bush, a very good friend of mine - I wrote most of his speeches you know. He has me to thank for his poise, elegance, and vocal delivery.
Q: All at Her Ladyshipness Magazine are very grateful to you for giving up your valuable time to speak with us. Before you bid our readers farewell, could you perhaps offer some advice for those wishing to follow your good example?
A: The most valuable piece of advice that my mother ever gave me - she was almost as charitable as I am - was to go with what's fashionable. There's nothing to be gained, socially, from putting all your efforts into an unfashionable cause. Homelessness, for example, has had its day. The really hot potato these days is the environment, and that's where the photo and interview opportunities lie. The most fashionable events always have the best buffet lunches, and remember there's no shame in asking for a doggy bag. Benjamin and I lived off the culinary offerings of the 'Sea View Save the Bee Drive' luncheon for six whole weeks. That's two meals a day, and puddings. 
About Gina
Gina Collia-Suzuki is a writer, artist and art historian based in the UK. Having developed a deep interest in eighteenth century Japanese art and culture at an early age, she began studying Japanese woodblock prints whilst training as an artist in the 1980s....
Causes Gina Collia-Suzuki Supports
PETA
The World Wildlife Fund
RSPCA
Cancer Research UK