An aching bum... but it's worth it
I spent this evening at Waterstone's in Weston-super-Mare, signing books as part of the launch of late night shopping at the Sovereign Centre. 
I like book signings. They're tiring and they make my bum, jaw, teeth and ankles ache, but I get to meet the people who are reading my books... I get feedback. At first it was a tad frightening. After all, I could have been descended upon by a mob bearing torches and pitchforks... followed by a contingent carrying rope and pointing out suitable trees as they went along. But oh, what a wonderful feeling when a complete stranger comes up to you and tells you how much they laughed whilst reading your book (obviously, this is only a good thing if it is a comedy/satire... not a guide to funerary history). A lady at the signing today, who took my hand and gave it such a squeeze, told me she had laughed her socks off whilst reading 'The Wonderful Demise of Benjamin Arnold Guppy'. 'What a wonderful book!' she exclaimed. I grinned for the next four hours. Admittedly, I cannot move my jaw now and will have to drink through a straw, but it's worth it! Good reviews are wonderful to receive, but nothing - absolutely nothing - surpasses that feeling you get when you meet a reader face to face and see their reaction to the book with your own two eyes. There's a familiarity, as writer and reader are bound together by the book's existence.
One thing that pleased and amazed me today was being told that the book is quite 'known' in these parts. Ryoma, who was my little helper as usual and did a fantastic job as he always does (see second photo below), was telling people about the book only to have them reply that they knew about it already. My mother (in the first photo below) came along to see me 'in action' and was terribly impressed... 'you're infamous' she said. Of course, she always knew I would be. I have her genes.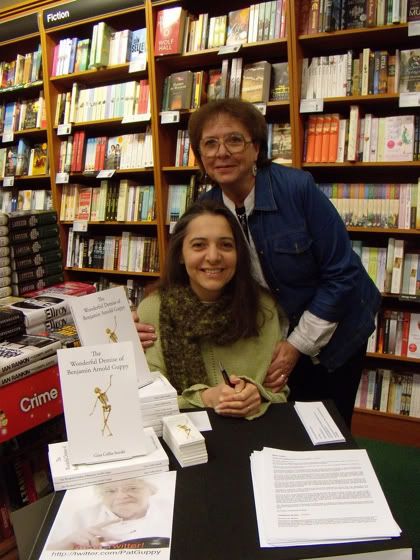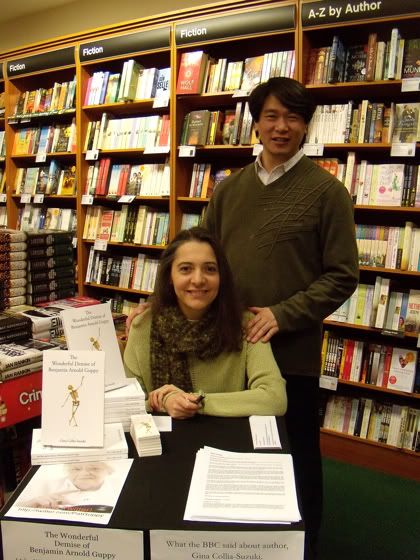 The staff in Waterstone's were very kind, as they always are, and filled me up with cappuccino. The other authors who took part in the event, Rosie and Howard Smith, were lovely. Friends and family came by to lend their support. And I got to photograph my books on the store's shelf (see photo below). I had a wonderful time, and now I must away to sleep for a week.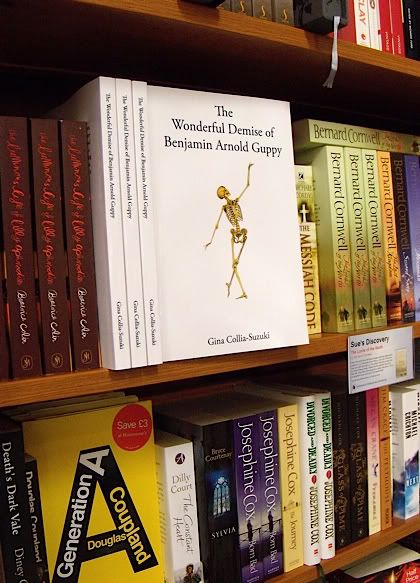 About Gina
Gina Collia-Suzuki is a writer, artist and art historian based in the UK. Having developed a deep interest in eighteenth century Japanese art and culture at an early age, she began studying Japanese woodblock prints whilst training as an artist in the 1980s....
Causes Gina Collia-Suzuki Supports
PETA
The World Wildlife Fund
RSPCA
Cancer Research UK