Why did Jay Weidner call The Ezekiel Code "a course in high strangeness"?
 Jay Weidner, renown producer of esoteric themed documentaries and co-author of Mysteries of the Great Cross of Hendaye said The Ezekiel Code is "entertaining and enlightening" and "a course in high strangeness". People have asked me, "What does he mean by 'a course in high strangeness'?" If you're wondering the same thing, I'd like to take this opportunity to answer the question.
When I wrote The Ezekiel Code I had more in mind than just telling a compelling story. I also wanted to bring to the reader a wide variety of provocative ideas, esoteric themes, unusual concepts and unexplained phenomena. For some readers this will be their first encounter with these things. Other readers may be somewhat familiar with these things but not with the alleged--or even with the historically verified--facts behind them. Still others will undoubtedly be quite familiar with many of the concepts and unexplained phenomena and they'll enjoy finding how they've been woven into the context of an intriguing tale of mystery, adventure, discovery, murder and, well... "high strangeness".
So what kind of things are we talking about?
-------------------------------------------------------------
Please see the rest of the article here:
http://www.amazon.com/Gary-Val-Tenuta/e/B002CJ9NE6/ref=ntt_dp_epwbk_0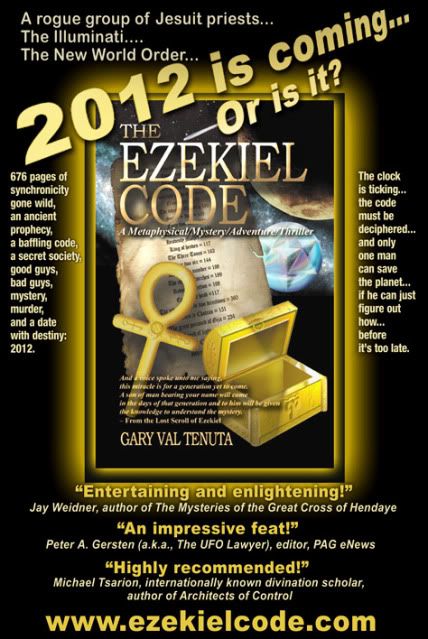 Wow...Dan Brown fans watch out! It's gripping, tantalizing... I was hooked by the end of the first chapter and literally unwilling to put it down!"
—Nikki, book blogger at Close Encounters With The Night Kind
About Gary
Writer, illustrator, book cover artist and author of two novels - Ash: Return Of The Beast (a supernatural crime chiller steeped in the occult) • and • The Ezekiel Code (a cross-genre metaphysical/mystery/adventure/thriller with a touch of romance and a trace...