Golden and Tarnished Oldies: Enduring and "Temporary" Film Masterpieces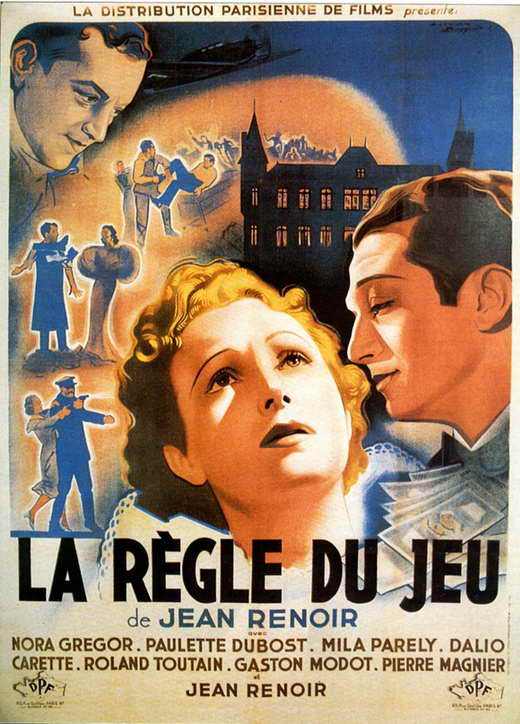 Critics and scholars have ranked 1939's La Règle du Jeu (The Rules of the Game), the third greatest film of all time.
Everyone has two jobs, Roger Ebert told me years ago – film critic and what they do for a living. I don't fit Ebert's arrogant claim because I was the second-string film critic for the Los Angeles Daily News in the early 1980s.
My film favorites often coincide with the scholarly consensus about classic films and often they don't. Film buffs have their own idiosyncratic best film picks, which like mine, may not enjoy classic status among film critics and scholars.
Chief among my picks for enduring movie experiences:
Anything starring Meryl Streep, even her less successful screen efforts.
The reason for actress career's longevity in an industry that uses up superstars like Kleenex™ is that unlike movie stars, which the actress is definitely not, Streep disappears into her roles.
Audiences will never get tired of the same old star, like Demi Moore or Kevin Costner, because each of Streep's performances is unique, unlike any of her other roles.
It looks and sounds as if different women were starring in each of Streep's films.
Filmgoers are treated to a new character every time they see the actress on screen. That couldn't be said of most movie stars, who tend to play variations of their successful screen personae.
Streep's twisted sister in Doubt bears no physical or vocal resemblance to the voluptuous Holocaust survivor she played in her Oscar-winning role as the title heroine of Sophie's Choice.
A mistress of disguise and a multilingual Yale grad with an MFA in acting, Streep turned in a performance in Sophie's Choice that was praised, for among many other reasons, for her ability to change her Polish accent as she became more acculturated to her adopted land, America.
For the film's Auschwitz sequence, Streep became proficient in Polish, which she spoke with a German accent to placate concentration camp guards.
To look like an emaciated death camp inmate, she told me when I interviewed her for Postcards from the Edge (1990) at Caesar's Palace, where her co-star Shirley MacLaine was performing her lavish nightclub act, that she subsisted on a diet of white wine and nothing else – for two weeks!
Streep is not only a great actress, but she gives great interview. She's also very shy, which some interviewers who call her "brittle" mistake as aloofness.
When I interviewed La Streep before Postcards from the Edge came out, she told me the most self-deprecating anecdote, which greatly improved the article I wrote about her.
Before Streep became MERYL STREEP, or as Jeremy Irons told me to his regret, "Dame Meryl," she auditioned for an Italian movie producer and his no-talent son.
She refused to tell me who they were, but I'm sure they were Dino de Laurentiis, whom I also interviewed when he opened his short-lived gourmet food shop in Beverly Hills in the early 1980s.
Nice guy, but his accent was so impenetrable it was hard writing an article based on our chat at his shop in Beverly Hills.
Streep was being interviewed by the producer who would frequently speak to his son in Italian, presuming the starlet didn't know the language.
"He couldn't have been nicer...He expressed great interest in my career, polite, flattering..."
Then Streep quoted one comment of the producer's comments he made to his son in Italian, then translated it. "Son, youa knowa I only likea da beautiful girls Why you bringa me disa ugly broad?" or something to that effect.
Streep said to the producer, "I took Italian 101, and I am very unhappy, signor..." She left the room.
Great story and typical of Streep's lack of ego.
Plenty (1985) is another showcase for the actress and benefits from its literary pedigree, a West End play of the same name written by one of Britain's greatest living playwrights, Tom Stoppard (Rosencrantz and Guildenstern Are Dead).
Plenty features, in my opinion, Streep's most nuanced performance. She plays a British World War II resistance fighter whose post-war life deteriorates into despair and madness.
Her mad wallpaper tearing scene in an elegant London townhouse allows the actress to chew the scenery, almost literally.
Even Streep's flops, such as It's Complicated (2009), are glorious failures. Just before the film's release, a defiant Streep crowed on the cover of Vanity Fair, "I'm 60 and playing a romantic lead. Bette Davis, eat your heart out!"
Unfortunately, there was no chemistry between Streep and her younger lover, played by a semi-nude and obese Alec Baldwin, who is embarrassing to watch as he gropes Streep's private parts.
The marzipan wannabe epic, Out of Africa, was elevated by Streep's performance which typically showcases her magnificent knack for faking foreign accents.
Jeremy Irons, her co-star in The French Lieutenant's Woman(1981, a film that does not benefit from its literary pedigree, the cult classic novel by John Fowles or the screenplay by Harold Pinter) told me at the Chateau Marmont on the Sunset Strip shortly after John Belushi overdosed at the hotel, Streep was the only actress he knew who could fool audiences with her perfect British accent.
Streep deserves Time magazine's estimate of her as the greatest English-language actress of all time, an honor she purloined from Time's previous anointee, Vanessa Redgrave.
Who's Afraid of Virginia Woolf? (1966) won Elizabeth Taylor her second Oscar (No. 1 was courtesy of 1960's Butterfield Eight, a consolation Oscar for the Academy's failure to recognize her performances in Raintree County, Giant and A Place in the Sun.)
Her role as an unpleasingly plump housewife in a college town had its price and opened Taylor up to cruel gags about her ballooning weight.
Never one to rely on her beautiful screen persona, actress trashed her voluptuous body by gaining 30 pounds. She also allowed a makeup artist to make her look two decades older than her age at the time, 34.
Meryl Streep, another protean star, must have been inspired by Elizabeth Taylor's unflattering metamorphosis in Virginia Woolf.
Rambling right along, other classics that improve with age, theirs and mine:
Darling (1965) was condemned by moralists. The condemnation was surprising because the British drama ultimately punishes its anti-heroine for her sexual promiscuity.
Julie Christie won an Oscar for the role of a bed-hopping model who sleeps her way to the middle. One disapproving film critic described Christie's character as an "amoral sex kitten."
The Catholic Church agreed and gave Darling a not-so darling B rating for "morally objectionable in part."
Then and now, Darling stands out as an incisive, almost surgical dissection of a narcissist and a lost soul who doesn't even know what she's looking for in life or love.
Christie's acting in the final scene merited her Oscar win if for no other reason, of which there are many.
The story ends after she has been abandoned by her British lover, played by Dirk Bogarde, and returns to a loveless marriage and lonely life as the wife of a preoccupied Italian aristocrat who ignores but doesn't abuse his much younger, beautiful wife.
Christie, a wealthy tea planter's daughter raised in India, is typecast as member of a British aristocracy of beauty.
If for no other reason, The Servant's (1963) hypnotic soundtrack, composed by John Dankworth and performed by his wife, Cleo Laine, places the film in the pantheon.
That film was the scholarly British journal Sight & Sound's second pick for best pic until its latest decennial survey of film critics in 2002 demoted Jean Renoir's masterpiece from No. 2 to No. 3, after Citizen Kane (1941) and Vertigo (1958).
I've always felt Citizen Kane was overrated but the first time its compelling, intricate plot fooled me into believing the critical hype about its status as the greatest film of all time.
Vertigo on the other hand deserves its second place showing onsite & Sound's best list.
In Vertigo, Alfred Hitchcock subversively turns Jimmy Stewart's loveable Everyman screen persona into an obsessive private eye and fashion dictator who pursues Kim Novak throughout the film, making her over into the object of his desire, a woman he believes has committed suicide.
The Servant, another classic that has passed the time test, was directed by blacklisted American director Joseph Losey, self-exiled to England because of his days as a Communist fellow traveler, reveals the director's hidden Marxism in the film's theme and portrayal of a spoiled upper-class twit (James Fox) and his manservant, played by the ubiquitous Dirk Bogarde.
Their struggle for power, which Fox loses in an opiate stupor by film's end, is Karl Marx-lite, a battle between the proletariat (Bogarde) and the grand bourgeoisie (Fox).
The Servant's Marxist subtext also lampoons British imperialism and solipsism in a sly scene where a house guest searches for the word "pancho" worn by Argentinean gauchos, and her rhymes-with-rich hostess says conclusively, "It's called a cloak, dear."
That bit of dialogue alone puts The Servant in the pantheon.
The Rules of the Game (1939) owes its historical and artistic resonance to the film's prophetic vision of decadent aristocrats who will contribute to France's defeat by the Nazi hordes within a year of the film's release.
It wasn't until recently that I had an epiphany that explains why The Rules of the Game still enchants – me at least.
I was always curious about why a bedroom farce has had such staying power in my memory. The Rules of the Game is not a bedroom farce.
It belongs to a unique genre, the tragi-farce. Until the film's climax, it is a traditional farce Arthur Schnitzler might have confected in fin de siècle Vienna.
More bedroom doors are slammed in The Rules of the Game than in anything ever written by Molière or Feydeau.
In the penultimate sequence, various cuckolded husbands chase the cuckolders around their host's palatial country estate outside Paris.
When the host, a Jewish aristocratic played by Marcel Dalio, yells at his butler, "Stop this farce," the man replies, "Which one?"
The count's abandoned religion also contributes to the film's historical resonance and eerie prophetic power. People who watched The Rules of the Game after the German occupation of France could guess the fate of it Jewish protagonist.
The Lion in Winter (1968) has so many things to recommend it: Katharine Hepburn's Oscar-winning Eleanor of Aquitaine, a scheming queen and rejected wife. The film's Shakespearean dialogue. Its modern, kinky sensibility.
The Bard never dared to go where The Lion in Winter ventures, especially Richard the Lion-Hearted's (Anthony Hopkins), his Oedipal relationship with his mother, Eleanor, and his tortured homosexual relationship with the king of France, Philip le Bel (the Fair, no homophobic puns please), played by a future 007, the bellissimo Timothy Dalton.
The Lion in Winter was released a year before the Stonewall Riots in New York launched the gay rights movement and made the love that dared not speak its name downright chatty. Yet another film with eerie prophetic power.
The dialogue by Oscar-winner James Goldman is lyrical and sounds like Shakespeare's meter of choice, iambic pentameter.
And then there are those "classics" that don't improve as I age:
The Third Man (1949) was based on a novel by one of the greatest authors of the 20th century, Graham Greene. Despite its haunting zither music, complex plot and multi-dimensional characters in a medium that prefers its subject matter simple and uncomplicated, the film doesn't stand up to my test of time.
Greene's novel was not pulp fiction, but The Third Man is arguably pulp cinema. The film's surprise ending revealing that a dead character (Orson Welles) is alive and a criminal who waters down antibiotics that kill children, no longer has the ability to surprise after a first viewing.
The Third Man almost makes it into the pantheon of movie masterpieces because of its final, iconic image. The heroine, played by Alida Valli, ignores a smitten Joseph Cotten because she's still in love with the memory of Orson Welles's sleazy drug merchant, Harry Lime.
After Lime's burial, Valli walks past Cotton without acknowledging him. The zither music and the linden trees that frame her exit are well worth the price of a Netflix rental.
Another disappointment is Les Enfants du Paradis (Children of Paradise, which doesn't live up to its billing as a film masterpiece -- to my mind and memory, at least.
The overly long 1945 French film was based on a novel by Victor Hugo and is set in the mid-19th century, plods along for 190 minutes until it reaches its magnificent, orgasmic climax, diminished by the love-struck hero's withering sense of loss, the love of his life.
Amid the revelry of Mardi Gras, thousands of extras celebrate and crowd around the desperate hero, still in pursuit of his unrequited love, a beautiful carnival performer played by Arletty.
His loss achingly (for him) contrasts with the ecstatic Mardi Gras celebrations that engulf him and keep him from pursuing his lady love. Despite its historical resonance, the final scene can't make the preceding three hours-plus anything less than tedious.
Children of Paradise benefits from its time and setting, immediately before and after the Allied liberation of Paris in August 1944.
Until liberation, the film had been filmed in garages and abandoned buildings because the filmmakers were on the run from the Gestapo due to their resistance activities.
It was only after liberation that the massive crowd scene that comprises the film's finale could be photographed. The 19th century Mardi Gras revelers were obvious stand-ins for the 20th century revelry memorialized in newsreel footage of Paris' liberation.
Despite its historical resonance, Children of Paradise fails to resonate artistically. My apologies to devotees of the cult classic.
The all-time disappointment for me has to be Dr. Zhivago, another marzipan historical confection, this time about the Russian Revolution, which merely serves as a backdrop to the illicit affair of the hero (Omar Sharif) and the beautiful Lara, played by a typecast (again) beautiful Julie Christie.
I first saw Dr. Zhivago when I was in high school and fell for the film which most critics found laughable.
Ten years later, I found the film's sappy romance and melodramatic end (Sharif chases a woman he mistakenly thinks is his long-lost love (Christie), only to die of a heart attack before he catches up with the stranger in a crowd scene and discovers his mistake.
About a decade after that, I found the film unwatchable. And years after that, I came to share the critics' original derision for its marzipan quality.
I didn't even bother to watch it again as part of "research" for this blog.
I think I'll watch Darling for the umpteenth time. I hope ancient memories haven't betrayed me in this case.
I saw a sign in a restaurant that said, 'Breakfast served any time.' I said, 'OK, I'll have French toast during the Renaissance.""
About Frank
"The Autobiography of Frau Adolf Hitler" available in paperback ($19.95) at http://www.amazon.com/The-Autobiography-Frau-Adolf-Hitler/dp/1477581723/.... KINDLE ($9.99) available at http://www.amazon.com/dp/B008E78B9S Some readers found the chapters of the...
Causes Frank Sanello Supports
ACLU, ASPCA, Amnesty International, Doctors Without Borders
Frank's Favorite Books
Emma, Madame Bovary, Cousine Bette, War and Peace, Day of the Locust, 1876, Anna Karenina, Great Expectations, Daisy Miller, The March of Folly, Dr. Faustus