Krishna, leftover innocence...and I
I can hear the drums. A bunch of young people will form a human pyramid and break a clay pot filled with curd and lots of money. Gods don't come cheap anymore. The stakes are up. Because devotees are full of greed.
Today is Janmashtmi, the birth of Lord Krishna. As a young boy he survived attempts to kill him because of divine intervention. He was like most boys and was raised by a cowherd and his wife. That surrogate mother, in fact, was the principal influence on his life. Yashodha. He would rob the churned milk and return to her, his mouth speckled with white residue.
That made him human.
He was surrounded by gopis and would steal their clothes as they bathed in the river and demand more butter to return their garments. That butter did not add any cholesterol to his system nor lard to his girth. Krishna has always been pictorially depicted as lean, often playing the flute.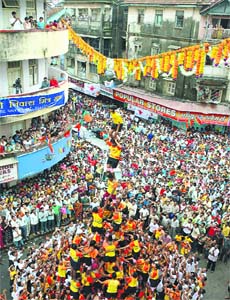 On Janmashtmi day, that human pyramid forming takes place. As a child I recall there used to be one right outside our building, in the lane. They used the window bars of an apartment to tie the rope from one end and the other end was secured in the building across. At the centre would be the pot. The fellows who climbed up were children of the labourers, tailors, maids, cooks, drivers in the locality. We would egg them on as they tripped. Finally, the smallest one would reach the top, break the handi and they'd share the money. It wasn't much. Sometimes, they would come round offering us prasad (holy offerings). We took it without a care about how it was made and where.
Childhood hungers are different.
I would still look wide-eyed if everything had remained the same. But they don't. Things change. We change. One transforming the other in a cycle that spins out of shape. Now those soiled and creased currency notes are replaced by money that can be in hundreds of thousands. The celebrations are held in designated areas sponsored by companies and attended by celebrities.
The pot is higher, many more tiers of people climbing and breaking limbs to reach it.
Yet, I keep my queries aside. For, it is only during these festivals that the poor become important. They are needed to fracture bones. To dance shamelessly in the streets. To stuff their faces with unhygienic colours. To get indelicately drunk. To snivel before the gods of today, Mammons in their limousines throwing big moolah to feel they have earned their place in heaven.
The gods have given up. Their myths that spoke of sagacity have been sold to the highest bidders. Their images come in forms that are ostentatious. Oh, I said, I would not raise a quizzical eyebrow, I said I won't…
So, this morning I added an extra dollop of butter on toast in memory of the lord. The grease that stayed on my lips reflected a childhood I was born to lose.
Happy Birthday, Krishna.
-----------
And a happy birthday to me, too. I complete a year on Red Room. On August 14, 2008 I appeared here. I did not look around to see what was happening, who was doing what and how much. I only saw my name, chose the spider's web theme because that is what I feel like, and put up something about my non-linear life. When I turned the pages, I saw that everyone was a writer, and most were writing about writing. I felt like the saliva dripping from Pavlov's dog's mouth. Liquid that would dry or be an existential experiment for myself.
It has been a year of discoveries and meeting and clashing of minds. Thank you for the space, for reading me and indulging my quirks. I may not be the apple that the doctor ordered, but there is scientific proof that if you hold your nose tight an apple and an onion taste the same.
I continue to peel the layers…till the violet bruises turn white and pristine.
She writes with anguish and pessimism, a journey into hearts of darkness with no light at the end of that distorted prism, mainly because as she astutely observes, "every few years Pakistan writes a new fiction" to keep the embers alive. "
About Farzana
To be categorised is near-death. It would be nice to say that one is a literary vagabond, but it just does not convey fully the sense of rootlessness and ruthlessness one strives for constantly. Have written opinion pieces, feature articles and interviews for...
Farzana's Favorite Books
Every writer, besides the ones I have listed, who has had something to convey that leaves me with the taste of bitter chocolate...that I like.