What demarcates bad taste from message in art? Is a painting that shows the corpse of a well-respected political leader undergoing an autopsy revolting? Would it be offensive if the person was not a known name?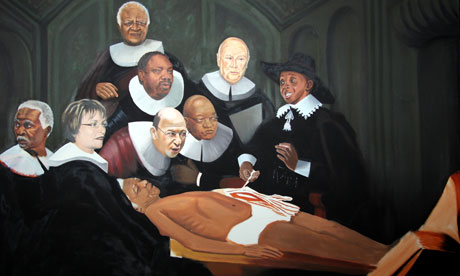 A Johannesburg artist, Yiull Damaso, has parodied "The Anatomy Lesson of Dr Nicolaes Tulp" by Rembrandt. His work shows Mandela covered in a loin cloth, watched over by world leaders Archbishop Desmond Tutu, President Jacob Zuma and former presidents F W de Klerk and Thabo Mbeki, and a 12-year-old boy who died of AIDS.
An African National Congress (ANC) spokesperson said:
"It is in bad taste, disrespectful, and it is an insult and an affront to values of our society. This so-called work of art is also racist. It goes further by violating Mandela's dignity by stripping him naked in the glare of curious onlookers, some of whom have seen their apartheid ideals die before them."Social values do not figure here. South Africa has seen a great deal of suffering. The artist has stated that the country must "confront a subject that remains almost taboo" - the future death of Mandela. This is a simplistic point of view. Mortality is no message. However, if it is a metaphor of dying ideals, then it might work.
As the artist said:
"The politicians around him are trying to find out what makes him a great man. Nkosi Johnson, the only one in the painting who's no longer alive, is trying to show them that Mandela is just a man. So they should stop searching and get on with building the country."
Mandela stands for overcoming racism and the onlookers are perhaps made to watch not his literal death but understanding what the movement he represented was about. Using a child who died of an illness that has no cure and requires caution at every step stands for the diseased parts of our system that with every fresh move loses its innocence soon enough.
I think showing him almost naked is to reveal the man without any encumbrances; the loin cloth is of course part of the basic level of both tribal culture and childhood. I understand that it might be seen as racist, showing him as backward because dress has become our mode to judge civilisation and hierarchy.Yet, the ANC too referred to the painting as 'withccraft' which isn't exactly a progressive way of critiquing, either.
Having said this, I do not understand why it was displayed in a mall. Not many would stand there to ponder the meanings and would most likely be disgusted. It interferes with consumerist moments. But, then, if we must be honest, then we must admit that hawking Mandela as the great Black shining hope has been an exceedingly important pastime of the intelligentsia.
This is not bad taste, nor a message of great import and most certainly lacking in aesthetic sensibility besides being almost an exact replica. (See the original on the left.) Unwittingly, though, it conveys that Mandela has become just another prop or a work of art. Watchable and maybe not a bad investment.
She writes with anguish and pessimism, a journey into hearts of darkness with no light at the end of that distorted prism, mainly because as she astutely observes, "every few years Pakistan writes a new fiction" to keep the embers alive. "
About Farzana
To be categorised is near-death. It would be nice to say that one is a literary vagabond, but it just does not convey fully the sense of rootlessness and ruthlessness one strives for constantly. Have written opinion pieces, feature articles and interviews for...
Farzana's Favorite Books
Every writer, besides the ones I have listed, who has had something to convey that leaves me with the taste of bitter chocolate...that I like.