Why Did the Chicken Forget to Cross the Road?
I've struck up a correspondence with a Japanese man who likes colorful expressions as much as I do. He happened to tell me that his wife often lobs the following criticism at him:
三歩歩いたら忘れるんだ!
You forget everything in three steps!
三歩 (さんぽ: 3 steps); 歩く (あるく: to walk);
忘れる (わすれる: to forget)
I love the back-to-back instances of 歩, especially because they come with different yomi. But I might have been lost if he hadn't also provided this bit of context for her comment: "We say in Japanese that a chicken forgets everything when it walks three steps."
I didn't know chickens were forgetful! Perhaps they're more so in Japan.
He then said that the Japanese refer to a forgetful person with another chicken tidbit:
鳥頭 (とりあたま: forgetful person) chicken + head
When English speakers refer to chickens and heads idiomatically, it's usually to say that a someone is running around like a chicken with its head cut off. In Japan, even with its head on, a chicken can't seem to think effectively.
Incidentally, the manga artist 西原理恵子 (さいばら りえこ) often reminisces about her childhood in her manga, and she has said that her mother often yelled this at her:「この鳥頭!」 (You airhead!). The artist has incorporated that term into the name of her company.
This chicken insult made me curious about where else 鳥 might pop up unexpectedly in Japanese words, so I looked into the matter.
Toriis for Birds, Toriis for the Bedroom
Even though this word is quite common, it never fails to charm me:
鳥居 (とりい: torii; Shinto shrine archway) chicken, bird + to sit
According to Nihon Kokugo Dai-Jiten, 鳥居 originally meant "perch for a chicken offered to a god." A chicken?! I've always imagined that this term referred to sparrows or some such! But how in the world would a chicken reach the top of a torii? My proofreader says the chicken was most likely placed there as an offering while still alive, though it's unclear what would have prevented it from flying away. (Yes, chickens can fly! That is, wild ones do. Humans have modified other kinds of chickens so that they've lost that freedom.)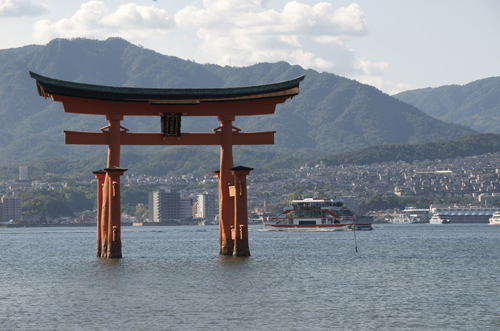 Photo Credit: Christopher Acheson
The famous torii at Itsukushima Shrine on the island of Miyajima in the Inland Sea.
I adore toriis. Simple and yet dignified, they're somehow full of meaning and mystery.
Come to think of it, the front page of Joy o' Kanji has a photo of toriis at Fushima Inari Shrine in Kyoto. The photo shows too many toriis to count, though there are supposedly about ten thousand! Here are some of those arches, along with people who look less than enthralled to be there:
[To read the rest, go to Joy o' Kanji!]
About Eve
Eve Kushner is a writer in Berkeley, California. In February 2009, Stone Bridge Press published her second book, Crazy for Kanji: A Student's Guide to the Wonderful World of Japanese Characters. Eve's first book, Experiencing Abortion: A Weaving of Women's...
Causes Eve Kushner Supports
The Milo Foundation, Planned Parenthood, Doctors Without Borders, PCI, FINCA