When Confusion Rises to New Heights
Twice recently I have felt confused about Japanese. Well, I should probably inflate that number by an order of 10 or 100, just to account for all the puzzlement I experience in an average week. But I can remember only two episodes of note. Both had to do with height.
For my forthcoming essay on 杉 (すぎ: cedar), I examined a photo that gave the vitals on an enormous and ancient cedar on Yakushima, an island off of Kyushu: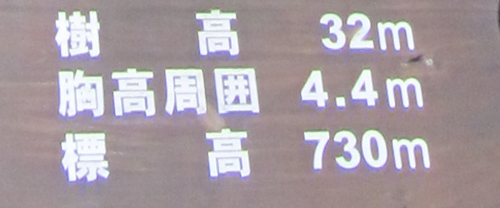 Photo Credit: Anne Hill
I could figure out the first and last lines without too much trouble:
樹高 (じゅこう: height of the tree): 32m
胸高周囲 (きょうこうしゅうい: ??????): 4.4m
標高 (ひょうこう: altitude): 730m
But what did the second line mean? The characters 胸高周囲 break down as chest + height + circumference (last 2 kanji). The chest of a tree? I've heard of the "waist" of a willow, an idea I encountered in essay 1898 on 柳 (willow):
柳腰 (やなぎごし: waist of a willow) willow + waist
Where is the waist of a willow or of any tree?! Doesn't a tree have as much of a waist as a snake?
I've also heard of the "crotch" of a tree:
木の叉 (きのまた: crotch of a tree) tree + crotch, fork in road
The second kanji is non-Joyo.
Clearly, trees abound in body parts. But do they also have chests?
[To read the rest, go to Joy o' Kanji!]
About Eve
Eve Kushner is a writer in Berkeley, California. In February 2009, Stone Bridge Press published her second book, Crazy for Kanji: A Student's Guide to the Wonderful World of Japanese Characters. Eve's first book, Experiencing Abortion: A Weaving of Women's...
Causes Eve Kushner Supports
The Milo Foundation, Planned Parenthood, Doctors Without Borders, PCI, FINCA