Very Superstitious, Writing's on the Wall
I've learned a new word:
忌み言葉 (いみことば: (1) taboo word; (2) euphemism used in place of a taboo word)
taboo + word (last 2 kanji)
Two things jump out at me. First, if I heard the term いみことば, I would feel certain that the いみ corresponded to 意味 (いみ: meaning), but no.
Second, 忌み言葉 means one thing and its opposite at the same time. When an 忌み言葉 could make others uncomfortable, just substitute an 忌み言葉. That's very confusing!
It turns out that the Japanese have a host of taboo words and euphemistic replacements. When words have associations with blood, death, and the like, people consider them to be unclean and therefore taboo. On occasions fraught with anxiety, such as important exams, the Japanese also avoid words that create the image of failing. And at weddings, people dance around terms associated with separation and divorce.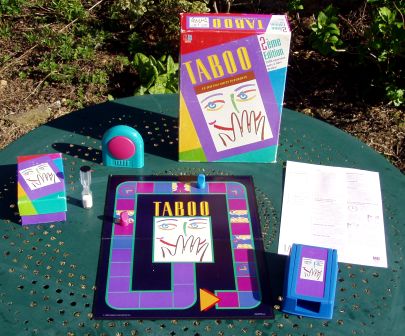 Photo Credit: FH
The following term lies at the heart of this topic:
連想 (れんそう: association (of ideas); being reminded (of something); suggestion)
link + thinking of
The kanji break down quite logically, suggesting to me a free-associative state of mind, the kind that accompanies creative bursts. Not quite. Rather, because we're dealing with taboos, the matter of replacing one Japanese word with another is a fear-driven phenomenon.
We all know about the Japanese avoidance of the unlucky 四 (four). After all, its on-yomi of シ sounds like 死 (し: death). Similarly, it's no secret that people associate 九 (ク) with 苦しむ (くるしむ: to suffer). But imagine my surprise to find on Wikipedia that some of the words people use all the time are on the no-no list. Let's look at a handful.
仕事 (しごと: work)
The yomi of this word brings to mind 死後 (しご: after death), so people prefer these substitutes:
働き
役目 (やくめ: duty, business, role)
役割 (やくわり: part, role, duties)
ワーク
ジョブ
The last two come from "work" and "job." People would rather use English-derived terms when 仕事 feels quintessentially Japanese?!
猿 (さる: monkey)
Oh my goodness. The first sample essay on Joy o' Kanji is all about 猿. I've chosen something unlucky! But what could be unlucky about a monkey?
Hey, I can think of one thing. On a Costa Rican road several years ago, monkeys charmed many of us by doing daredevil tricks from telephone wires. Drivers stopped to take pictures.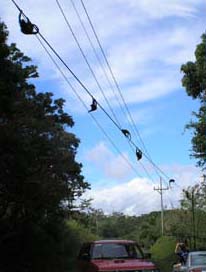 Photo Credit: Eve Kushner
It turns out that even while doing aerial stunts, monkeys may need ... shall we say ... "relief" (as long as we're using euphemisms). Unfortunately, they're a damn sight messier than birds:
[To read the rest, go to Joy o' Kanji!]
About Eve
Eve Kushner is a writer in Berkeley, California. In February 2009, Stone Bridge Press published her second book, Crazy for Kanji: A Student's Guide to the Wonderful World of Japanese Characters. Eve's first book, Experiencing Abortion: A Weaving of Women's...
Causes Eve Kushner Supports
The Milo Foundation, Planned Parenthood, Doctors Without Borders, PCI, FINCA