Tracing Circles in Time, and in Japan
Last week, I went to three major social events in five days. That's highly unusual for a hermit who spends all day thinking about nothing but kanji and who generally likes it that way!
By the way, "hermit" is one meaning of 仙, the kanji of the week. Here's a preview of the new essay 1490: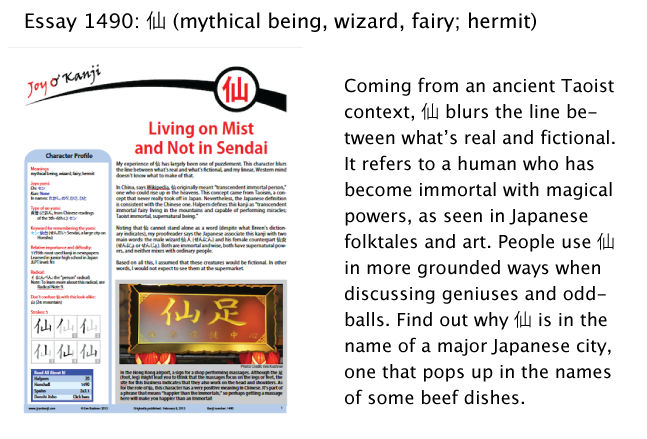 Anyhow, these get-togethers gave me a multicultural immersion; I spent time with a Ghanaian on Friday, with dozens of Mexicans on Saturday, and with three Austrians (two of whom are kanji aficionados) on Tuesday. But rather than stimulating me to think about language and culture, these events made me acutely aware of the passage of time.
Saturday was a birthday party for a one-year-old boy. Nearly all the guests had young children, including a newborn, and these kids occupied our attention. They huddled around electronic toys that I couldn't hope to understand, getting along fine until one asked another politely, "Would you like to fight?"
Tuesday brought a birthday celebration for a 56-year-old. The guests spoke about knee pain and teeth that had fallen out, and nearly everyone peered at the Chinese restaurant menu through reading glasses.
But neither of these parties affected me as much the Friday get-together. For two hours, my college friend and I talked about things that happened 25 years ago, the people we knew, how we felt back then, and what has changed. I felt almost dizzy as I recalled college life and thought about who I was at that time—someone barely recognizable now. Back then, countless things made me feel alive and crazy and desperate and ecstatic and deeply wounded, sometimes all at once. None of those things matter in the least to me anymore.
My life has narrowed down to one focus—kanji. That's just about all there is! And it is more than enough. Writing Joy o' Kanji essays offers me the richest of explorations week after week, leaving me so fulfilled that I need little else.
How can I explain this to someone who hasn't fallen into the same addiction? I can't. As a result, there sometimes seems to be little to say to others, and it's hard to feel understood or known. Following a trail of kanji, or a million trails, I've ended up in an eerily beautiful alternative universe—maybe something as vast and mysterious as the Grand Canyon. I can't convey the experience to those who didn't accompany me on the journey.
[To read the rest, go to Joy o' Kanji!]
About Eve
Eve Kushner is a writer in Berkeley, California. In February 2009, Stone Bridge Press published her second book, Crazy for Kanji: A Student's Guide to the Wonderful World of Japanese Characters. Eve's first book, Experiencing Abortion: A Weaving of Women's...
Causes Eve Kushner Supports
The Milo Foundation, Planned Parenthood, Doctors Without Borders, PCI, FINCA