On the ferry from Okayama to Shodoshima, I walked into a room not meant for me. The sight of a urinal was a huge clue that things were not quite right. Fortunately, no one else was around.
I backed out sheepishly and glanced at the sign on the door:
I understood お手洗い (おてあらい) as "bathroom," or literally "hand-washing" place. But what about 紳士? I had a full bladder, so I didn't spend too long analyzing the kanji.
Making my way to another bathroom, I found this most welcome sign: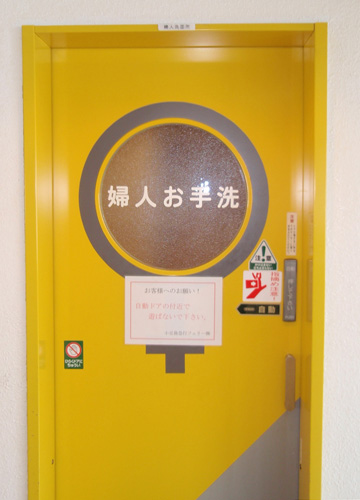 The "woman" radical in 婦 provided all the reassurance I needed. The word 婦人 (ふじん: adult woman + person) means "woman; adult female." No problem there, though the sign does appear to exclude little girls!
After relieving myself, I returned to the men's room door and studied it for clues, hoping for more relief. What was it about 紳士 that said it was for men? Component analysis is often helpful, but when it came to 紳, recognizing 糸 as "thread" got me nowhere. As for 申, I knew it best from sentences like イブと申します (イブともうします: I am called Eve), as well as 申し込む (もうしこむ: to apply for). Those words were of no help whatsoever when it came to 紳.
Moving on to 士, I realized that it means "samurai," ...
[To read the rest, go to Joy o' Kanji!]
About Eve
Eve Kushner is a writer in Berkeley, California. In February 2009, Stone Bridge Press published her second book, Crazy for Kanji: A Student's Guide to the Wonderful World of Japanese Characters. Eve's first book, Experiencing Abortion: A Weaving of Women's...
Causes Eve Kushner Supports
The Milo Foundation, Planned Parenthood, Doctors Without Borders, PCI, FINCA