Spring Color, Spring Greens
It seems like lots of us have experienced crazy weather lately, including tornadoes and quasi-typhoons. Where I live, we keep oscillating between turtleneck weather and shorts weather, with the occasional torrential downpour. Nevertheless, there are undeniable signs of spring. All my favorite purple flowers are in bloom: wisteria, ceanothus, and tibouchina. And, oh, the tulips! Here are some pictures of gardens in my neighborhood.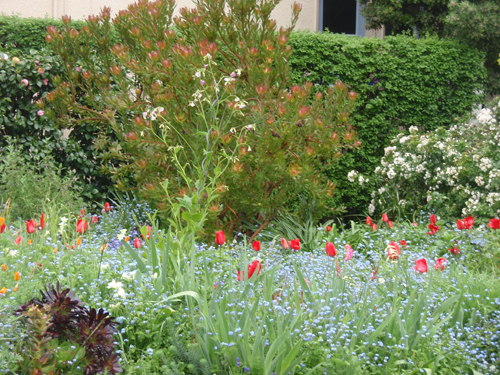 About Eve
Eve Kushner is a writer in Berkeley, California. In February 2009, Stone Bridge Press published her second book, Crazy for Kanji: A Student's Guide to the Wonderful World of Japanese Characters. Eve's first book, Experiencing Abortion: A Weaving of Women's...
Causes Eve Kushner Supports
The Milo Foundation, Planned Parenthood, Doctors Without Borders, PCI, FINCA