People constantly have weather on their minds. When I scroll down my Facebook news feed, I see that topic more than perhaps any other.
As far as I can tell, that's what my dogs spend much of their day thinking about, too: "It's cold. Where's the sun? Ah, there it is! Hurray! Life is good! Oh, no. The sun moved. I'll go plop down in a new patch of sunlight. Now I'm hot, but I don't feel like moving, so I'll just sit here panting."
We may have smart phones and opposable thumbs, but we're not so different from the animals!
As long as that's the case, we might as well put our full attention on the weather. How does it seem from a Japanese perspective?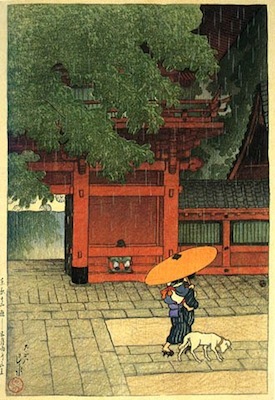 "May Rain at Sanno Temple," 1919, by 川瀬 巴水
(かわせ はすい,1883–1957).
Rain
It's no wonder the artist 川瀬 巴水 chose to portray rain in this woodblock print. Just look at all the water in his name: a river (川), the "water" radical (氵), and then the water kanji 水. Soggy, soggy man.
When I posted this woodblock print on Facebook yesterday, a Japanese friend left a concise comment:
五月雨 (samidare)
The kanji are so simple, breaking down as May (1st 2 kanji) + rain, but what's with the yomi, which appears to be ateji? I consulted a dictionary and found this:
五月雨 (さみだれ: early-summer rain)
Summer in May? I asked my proofreader for input. Working from sources such as Wikipedia, he said that the definition alludes to the lunar calendar. Oh, yes, I always forget about that. In that old calendar, 五月 corresponds to late June in the solar calendar (the one most of us use now). Late June in Japan is the start of the rainy season, so "early-summer rain" makes perfect sense.
He also noted that people usually use 五月雨 in haiku as a 季語 (きご), a word that creates a specific image of a particular season.
As for the yomi さみだれ, he says that it evolved from original archaic Japanese. One can read 五月 as さつき, so that explains the さ in さみだれ. Another source indicates that an alternate name for 五月 is 早苗月 (さなえづき), which would also supply the さ. As 早苗 means "rice seedlings," 早苗月 would mean "rice seedlings month." However, some dictionaries say that the さ- in 早苗 is a prefix meaning "god's rice." That gives us "god's rice seedlings month"! Goodness, does anyone really know what's going on here?!
The みだれ part is easier. It comes from 水垂れ (rainfall), which literally means "water falling."
As long as we're talking about rain and etymology, what foreign word do you think the katakana represents in the following term?
ゲリラ豪雨 (ゲリラごうう: unexpectedly strong rain (for the region, etc.); sudden rain) powerful + rain
I'll block the answer with another woodblock print from our soggy artist, as I have an unexpectedly strong passion for his work:
[To read the rest, just go to Joy o' Kanji!]
About Eve
Eve Kushner is a writer in Berkeley, California. In February 2009, Stone Bridge Press published her second book, Crazy for Kanji: A Student's Guide to the Wonderful World of Japanese Characters. Eve's first book, Experiencing Abortion: A Weaving of Women's...
Causes Eve Kushner Supports
The Milo Foundation, Planned Parenthood, Doctors Without Borders, PCI, FINCA