While we fuss and fret over thousands of kanji, we take a few simple ones for granted, particularly 一 (one). It's perfectly pictographic, so much so that there's nothing to grab ahold of there. And yet this kanji trips me up in unexpected ways.
Take, for example, the following sign: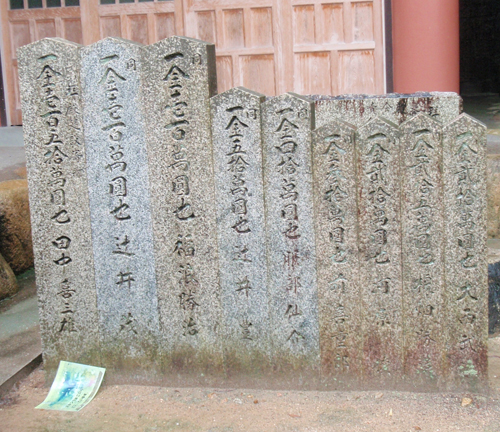 Photo Credit: Eve Kushner
Monument at a shrine in Arima (Hyogo Prefecture), indicating the names of donors and the amounts of the donations.
My eye skipped right over the 一 at the top of each stone, treating those lines as decorative borders! But in fact they indicate that a new column has started (as if we couldn't already tell!). When itemizing things, the Japanese often start with 一.
Now consider this fragment, which came to me in an email:
一層パワーが増す
How many instances of 一 do you see here? Two? Actually, there's just one, in the beginning. Its doppelganger is a katakana dash that lengthens ワ. (The dash is a hair shorter than its look-alike kanji, though this is imperceptible until you massively increase the point size.)
I love how the similar shapes divide the phrase visually, almost turning the two halves into mirror images. I'm referring to not only 一 and ー but also the kanji sharing the 曽 component.
Actually, let's digress for a moment.
[To read the rest, just go to Joy o' Kanji!]
About Eve
Eve Kushner is a writer in Berkeley, California. In February 2009, Stone Bridge Press published her second book, Crazy for Kanji: A Student's Guide to the Wonderful World of Japanese Characters. Eve's first book, Experiencing Abortion: A Weaving of Women's...
Causes Eve Kushner Supports
The Milo Foundation, Planned Parenthood, Doctors Without Borders, PCI, FINCA