A Japanophile acquaintance, David, stopped by my office last week, hoping to see the "nerve center" of Joy o' Kanji, as he put it! He brought me three kanji books, as well as Japanese desserts associated with a moon-viewing (月見, つきみ) festival.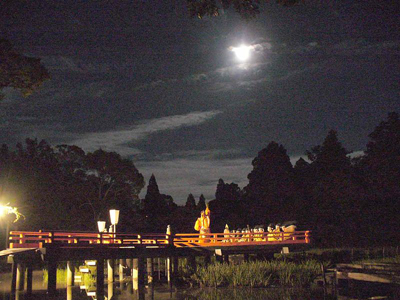 Image Credit: N yotarou
Harvest moon–viewing ceremony (観月祭, かんげつさい) at Magatama Pond in a garden attached to a shrine (豊受大神宮, とようけだいじんぐう) in Ise City, Mie Prefecture.
With the moon on his mind, he jotted down a poem that our mutual friend Noriji Otani had taught him many moons ago:
月月に月見る月は多けれど
月見る月はこの月の月
Ah, a veritable river of moons streams through that poem! But what's going on here? Fortunately, David supplied the yomi:
つきづきに つきみるつきは おおけれど
つきみるつきは このつきのつき
Clever! Not only does 月 repeat but the poet also made it so that the yomi is always つき. That seems hard to do!
Along with the yomi, David provided this translation:
There are many months for viewing the moon, but the month for viewing the moon is the moon-viewing month.
On one website, I found confirmation of all this, as well as the following interpretation of what 月 means each time:
月月に月見る月は多けれど
月見る月はこの月の月
In 月月: months
In 月見る: moon
In 月は: month
In 月見る: moon
In 月は: month
In この月: month
In 月: moon
This made perfect sense to me! I was surprised, therefore, that my proofreader took a different slant on the matter. He said ...
[To read the rest, go to Joy o' Kanji!]
About Eve
Eve Kushner is a writer in Berkeley, California. In February 2009, Stone Bridge Press published her second book, Crazy for Kanji: A Student's Guide to the Wonderful World of Japanese Characters. Eve's first book, Experiencing Abortion: A Weaving of Women's...
Causes Eve Kushner Supports
The Milo Foundation, Planned Parenthood, Doctors Without Borders, PCI, FINCA