Happy New Year! And welcome to the Year of the Snake. To kick off our celebration, I'm presenting essay 1341 on 蛇 (snake, serpent; heavy drinker). The third definition of this kanji may have a great deal to do with how you ushered in the new year!
Here's a preview of the essay: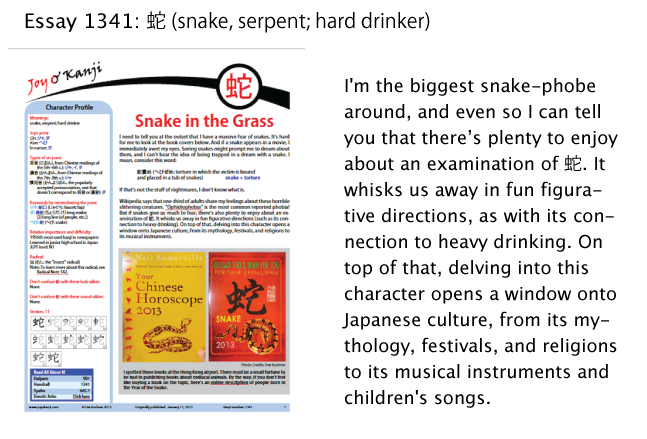 As for me, I spent the holidays in Hong Kong, Singapore, and Malaysia, drinking in my surroundings as greedily as a serpent inhales whatever it consumes. (That's the 蛇-alcohol connection, by the way, as I've explained in the essay!)
I knew that the Chinese characters in those countries would interest me, but I thought I'd feel frustrated by them more than anything. Whenever I've encountered written Chinese, I've seen mainly Simplified hanzi, and as you surely know, it's hard for Japanese learners to make sense of characters from which half the strokes have disappeared! Even when I've seen Traditional characters, I've been hard pressed to glean much from them. It doesn't help that they come in streams uninterrupted by kana, so that I have no idea where one word ends and the next begins.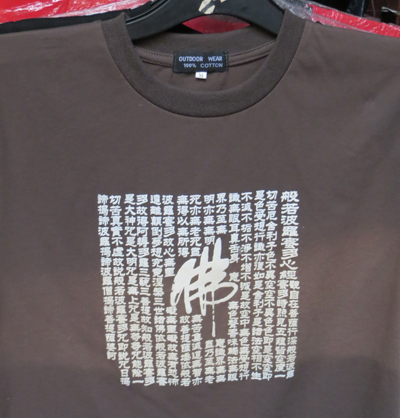 All Photo Credits: Eve Kushner
This T-shirt from Hong Kong gives a good impression of how impenetrable Chinese usually looks to me.
Expecting to understand next to nothing on the trip, I was thrilled to find ...
[To read the rest, go to Joy o' Kanji!]
About Eve
Eve Kushner is a writer in Berkeley, California. In February 2009, Stone Bridge Press published her second book, Crazy for Kanji: A Student's Guide to the Wonderful World of Japanese Characters. Eve's first book, Experiencing Abortion: A Weaving of Women's...
Causes Eve Kushner Supports
The Milo Foundation, Planned Parenthood, Doctors Without Borders, PCI, FINCA