Guiding Us Out of Anxiety: Part II
As I look at shots of the immense wreckage that Superstorm Sandy left behind on the Eastern Seaboard, I wonder how anyone knows where to start putting things right. I haven't the slightest idea where I would begin. I asked myself the same thing when I saw images of the mayhem in Tohoku last year. So many immediate needs, but which one should come first? And how can mere mortals tackle such immense challenges? We're no match for nature.
Then I look at photos of our leaders as they survey the Sandy damage, and their expressions suggest that they have at least a few ideas. If so, how do they know the right steps to take? Where does one learn these things?
A word from the newest essay raised similar questions for me:
帝王学 (ていおうがく: study of how to be a good leader) emperor (1st 2 kanji) + study
This term is a relic from Japan's imperial era, but my proofreader says that people still use it today to refer to the elite education that children from old, wealthy families are believed to receive. This training supposedly prepares them to be leaders.
I'm further intrigued. It's as if such people pass through special gates where they gain access to the answers. Perhaps it's written on an aged scroll.
In the thick of election season, I'm crossing my fingers that the people who win have a "scroll" of some sort. Actually, I'm part of the post-Watergate generation, and as such I spent years without the slightest bit of confidence in any elected leaders. However, as we slide deeper and deeper into problems such as environmental catastrophes, I find myself hoping that someone knows what to do.
What we most often see are politicians who can't make a difference one way or another (and who quickly lose the will to try, as far as I can tell). In Japan they would call such a person a "scarecrow," except of course they would use a Japanese word for that! Here it is:
案山子 (かかし: scarecrow; figurehead)
We saw this term last week in a wonderful haiku by Yoshikazu Kunugi that featured 案山子 with its literal meaning, "scarecrow."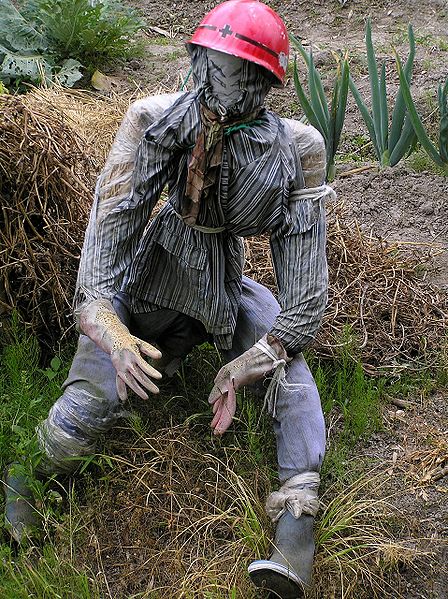 Photo Credit: 関西画像創庫
The metaphorical meaning of "figurehead" is quite wonderful.
[To read the rest, just go to Joy o' Kanji!]
About Eve
Eve Kushner is a writer in Berkeley, California. In February 2009, Stone Bridge Press published her second book, Crazy for Kanji: A Student's Guide to the Wonderful World of Japanese Characters. Eve's first book, Experiencing Abortion: A Weaving of Women's...
Causes Eve Kushner Supports
The Milo Foundation, Planned Parenthood, Doctors Without Borders, PCI, FINCA