From Pagodas to Elephants
Lately I've had to confront the same fear again and again. With essay 1280 on 魂 (soul, spirit) and then essay 1651 on 塔 (tower; pagoda; monument), I've needed to write quite a bit about Buddhism. What a complicated religion! Even Japanese people seem confused by some of the rituals and beliefs. I don't have a prayer (so to speak!) of understanding much, particularly the differences between the sects.
On top of that, comprehending Buddhism means grasping ideas and words that traveled from India through China, through Korea, and finally to Japan! Even the concept of the pagoda (originally the stupa) followed this route, as did the word for that structure.
That happened about 1,500 years ago. One might assume that there would be little ancient Indian influence in Japan today. But that's not correct. When I visited last summer and asked my proofreader what one stone monument at a temple said, he stared at it for awhile and said that he had no idea, as it was in Sanskrit.
Through essay 1651, I learned about wooden tablets that the Japanese place behind graves. Using sumi ink, Buddhist priests inscribe these tablets in Japanese—and in Sanskrit! In the photo below, the Sanskrit is visible at the very top, but it's much more apparent on other tablets.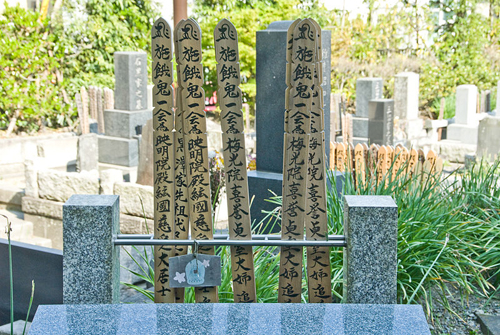 Photo Credit: Urashimataro
Wooden tablets at the grave of the famous film director Akira Kurosawa.
In most ways, India and Japan feel like polar opposites. One country overflows with colorful chaos, whereas the other is hyper-organized. Here's what I mean:
[To read the rest, just go to Joy o' Kanji!]
About Eve
Eve Kushner is a writer in Berkeley, California. In February 2009, Stone Bridge Press published her second book, Crazy for Kanji: A Student's Guide to the Wonderful World of Japanese Characters. Eve's first book, Experiencing Abortion: A Weaving of Women's...
Causes Eve Kushner Supports
The Milo Foundation, Planned Parenthood, Doctors Without Borders, PCI, FINCA