お久しぶり(おひさしぶり)ですね! It's been awhile! I'm slowly reimmersing myself in kanji matters after a nine-day vacation in Europe. My husband and I visited Berlin, Prague, and Vienna with brief stops in Frankfurt, Wiesbaden, and Munich. (In Berlin we enjoyed meeting Rajorshi De, occasional winner of newsletter contests!)
It felt strange to turn my back on Japanese, as if I were cheating on it with German! I did, of course, take photos of kanji whenever I spotted them. I found them in a teashop in Prague: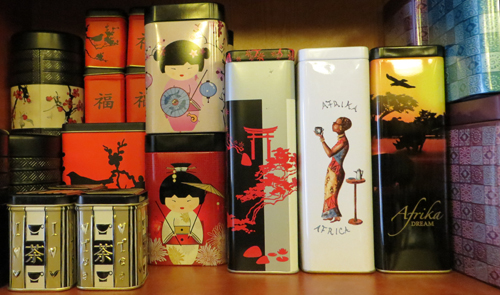 Photo Credit: Eve Kushner
I encountered them on a train between Vienna and Munich!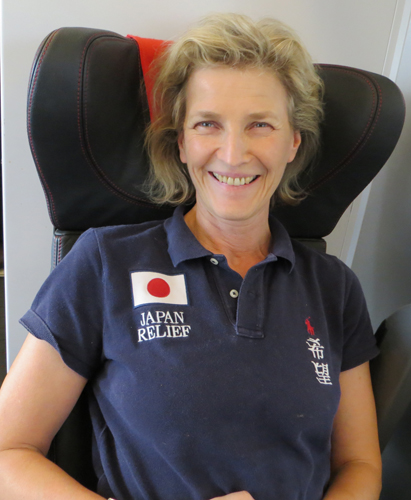 Photo Credit: Eve Kushner
This woman told me that Ralph Lauren created and sold these shirts to raise money for victims of the 2011 tsunami. The word 希望 (きぼう) means "hope."
But that was less surprising than discovering them in the Freud Museum in Vienna!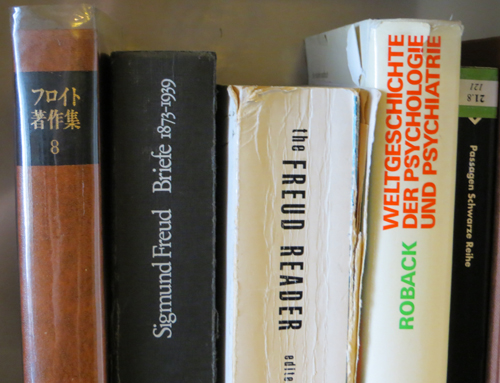 Photo Credit: Eve Kushner
The Japanese render Freud's name as フロイト, not フロイド because they attempt to reproduce the way things sound in the original language. A d at the end of a German word sounds like a t. In this context, 著作者 (ちょさくしゃ) means "writings," so the Japanese title translates as Writings of Freud: Volume 8.
I also spotted quite a few kanji in a Vienna museum about the artist and visionary architect who called himself Hundertwasser. He married a Japanese woman in the 1960s, and the paintings he did at that time included titles in kanji. Unfortunately, the museum prohibited photography, so I can't share those paintings with you. But perhaps you'll enjoy glimpses of him in 1961 Tokyo.
While traveling, I thought about language constantly. I pondered how it felt to be completely shut out of a language, as in the Czech Republic, where signs looked like this: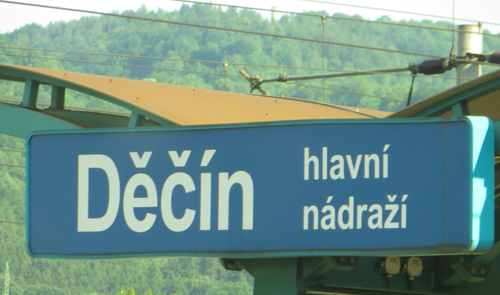 Photo Credit: Eve Kushner
Of course, not knowing a word of Czech eliminated any performance pressure. I could just sit back and admire the way the restaurant servers, hotel staff, taxi drivers, and shopkeepers effortlessly conversed in any number of languages.
But I felt a little uneasy, all the same, which made me consider my deep need to crack the code of other languages. Maybe it stems from nosiness! I want to know what everyone is saying! However, I think there's more to it than that.
[To read the rest, just go to Joy o' Kanji!]
About Eve
Eve Kushner is a writer in Berkeley, California. In February 2009, Stone Bridge Press published her second book, Crazy for Kanji: A Student's Guide to the Wonderful World of Japanese Characters. Eve's first book, Experiencing Abortion: A Weaving of Women's...
Causes Eve Kushner Supports
The Milo Foundation, Planned Parenthood, Doctors Without Borders, PCI, FINCA