The moon returns night after night, and we never tire of the repetition. I'm hoping you'll feel the same way about three consecutive JOK Notebook entries about the moon!
When two full moons appear within a calendar month, the second is a "blue moon." What, then, do you call it when October contains three blogs about the moon? The best I can come up with "Blue Moon Blog," but that doesn't seem to capture just how many times the full moon will shine on Joy o' Kanji this month!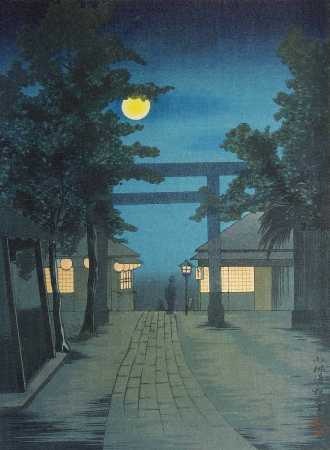 "Shrine Visit at Night"
Kiyochika Kobayashi (1847–1915), ca. 1910.
Last week, before posting my Moon River entry, I looked high and low for woodblock prints with moons. The day after I published it, a glorious one emerged on Facebook. Of course it would happen that way! I'm sharing it here as an act of artistic esprit de l'escalier.
That's partly why I'm having another go at this moon topic, but it's a minor reason compared with all the activity coming out of Osaka. I know someone there—let's call him the Man from Osaka. We've met only twice, once on a train in New Zealand in 2009, when we struck up a two-hour Japanese conversation that I barely understood, and again in Osaka this summer, when my incomprehension lasted more than six hours. I kept turning to my dictionary, but on at least 10 occasions it didn't contain the words he had used.
His Japanese is far above my level. It's far above nearly everyone's level. His hardest sentences have stumped my native speaker friends and a top-notch proofreader. Just about anything the Man from Osaka writes is dense with literary allusions, wordplay, references to artworks and songs, discussions of tribes and places I've never heard of, comments about thinkers like Max Weber, and analyses of geopolitical disputes, just to name some themes off the top of my head.
I recently spent more than eight hours dissecting two emails from him, and at the end there was still a great deal that I didn't understand. These emails have kept me so busy that I haven't even had time to respond to them yet!
Through his writing, the Man from Osaka prompts me to go off on explorations that feel as if they could last infinitely. Though I'm not equal to the tasks he sets out for me, the challenge somehow keeps me ambitious and hopeful. Dare I say that it makes me shoot for the moon?
[To read the rest, go to Joy o' Kanji!]
About Eve
Eve Kushner is a writer in Berkeley, California. In February 2009, Stone Bridge Press published her second book, Crazy for Kanji: A Student's Guide to the Wonderful World of Japanese Characters. Eve's first book, Experiencing Abortion: A Weaving of Women's...
Causes Eve Kushner Supports
The Milo Foundation, Planned Parenthood, Doctors Without Borders, PCI, FINCA