Let's start with a quiz. What do you think the following could mean?
朝顔 morning + face
If my pre-shower and pre-caffeine "morning face" is any indication, the object in question might not be too appealing!
I'll block the answer with artwork by a talented woman who calls herself Origa.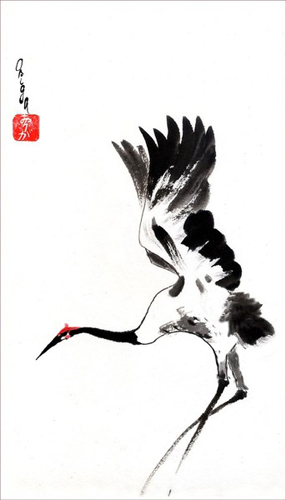 This piece is "Landing Crane." Now for the answer:
[To read the rest, go to Joy o' Kanji!]
About Eve
Eve Kushner is a writer in Berkeley, California. In February 2009, Stone Bridge Press published her second book, Crazy for Kanji: A Student's Guide to the Wonderful World of Japanese Characters. Eve's first book, Experiencing Abortion: A Weaving of Women's...
Causes Eve Kushner Supports
The Milo Foundation, Planned Parenthood, Doctors Without Borders, PCI, FINCA