After many months in which I've had nothing to say whenever I saw friends (because it's hard to chat about kanji, which is pretty much all I think about), things have shifted. Everything happens at once. Stasis tilts into periods of high energy and change. All is aswirl.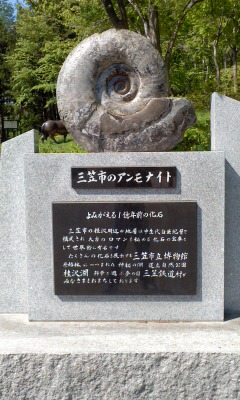 Photo Credit: Ryoichi Chida
Speaking of swirls, I just acquired this wonderful picture of an ammonite fossil. I thought an ammonite was a stone (it sounds that way, doesn't it?!), but it's an extinct animal that lived in a coiled, chambered shell. This picture is from Mikasa City (三笠市) in Hokkaido.
I'm not sure why but I'm suddenly having incredible conversations and feeling deeply connected to more people. I enjoyed reuniting with high school friends last weekend, seeing one for the first time in 27 years. After a great Indian dinner, we all suffered through a confusing and pretentious play that's quite famous, much-lauded, and therefore very expensive to see.
On the flip side, I've long enjoyed my isolation in a barely occupied office building that will soon be fully rented out, mainly to therapists. It will most likely become a somber place, hushed except for the sounds of crying. For years my dogs have had the run of the place, sunning themselves in any sunny room and roasting in front of the wonderful hallway heater on cool days, but they are now to be severely restricted. No more roasting.
A beloved yoga class has come to an end because the teacher wanted a more viable schedule for herself. That's a big loss. But it means that I can go running in the woods an extra day each week. That's quite appealing now that the days are so long.
We refinanced our house this week, using thumbprints to sign the official records. Nothing makes me feel quite as medieval as signing with a thumbprint. (My husband explained that a potato is the best way to remove ink from one's skin. This is a well-known trick in Pakistan, where he's from, and it's quite relevant during elections. Because so many people can't read or write, they use thumbprints to vote. After wiping their thumbs clean on potatoes, they vote again and again. Therefore, polling stations forbid the use of potatoes in the vicinity, and officials will hassle potato vendors outside the voting area!)
Anyway, the refinancing was great. Not so great: my dog had such a bad health crisis last week that I needed to carry all 50 pounds of her up and down stairs. But after her acupuncturist and chiropractor paid her visits three days apart, she is the spryest 11-year-old dog you could hope to meet, her energy somewhere between that of a whirling dervish and a hurricane.
I've had a health crisis, as well, and that took a turn for the better yesterday. More on that in a moment.
[To read the rest, go to Joy o' Kanji!]
About Eve
Eve Kushner is a writer in Berkeley, California. In February 2009, Stone Bridge Press published her second book, Crazy for Kanji: A Student's Guide to the Wonderful World of Japanese Characters. Eve's first book, Experiencing Abortion: A Weaving of Women's...
Causes Eve Kushner Supports
The Milo Foundation, Planned Parenthood, Doctors Without Borders, PCI, FINCA