JONNY QUEST MOMENTS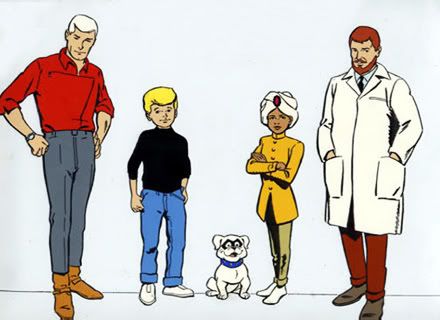 An adventure filled life. Don't we all want that? I don't know about you, but when growing up Jonny Quest was high on my Saturday morning agenda. I'd sit glassy-eyed in front of the TV watching the Quest team explore the globe, using Dr. Quest's particular brand of scientific genius to flush out Monsters and madmen.  Remember Dr. Benton Quest, ten-year-old Jonny, Race Bannon, mystical Hodji, and the extraordinary adorable Bandit?  Maybe, uh hem…if you are old enough, we shared those same lazy Saturday mornings.
This cartoon never played down to children. You could sit cross-legged in heart or bunny pajamas, climbing up sharp mountains of political intrigue in places you only drooled about in history books.
Now I'm not saying you must be a globe-trotting world explorer to snag adventures. My thoughts on this are as ordinary as a summer's day, which isn't ordinary at all when you really experience it. Every day is a adventure as long as you're alive.
Sigh… now isn't that great news?
Now if you do happen to be a writer like me, who has yet to visit most of the intriguing places the Quest team frequented, the news is not horrible. We have harnessed something that doesn't require the almighty dollar or the tick of time to claim. As kids we already figured this out. Writer or not, if your imagination is keen you still travel right alongside Jonny, holding your breath when Bandit barks at shadows. You are right down the Nile River, fighting off unseen watery forces. A blooming imagination can and does take you places. And don't look now, but one day, when you have college tuition payed off, and if you're lucky enough to still see, hear and walk, you might visit those places yet.
What I'm really getting at here is we make our own adventures. When we're knee deep in dishes and laundry,  kids rampaging through the house, or sassy pants teenagers claiming we know zero about life, all while spending our last dollar for clothes, flat irons, etc… it's hard to yank up those adventures. But I swear, if you examine things closely enough, you'll find them right smack in the swirl of activity.  And if that doesn't work, go lock yourself in the bathroom with a bottle of wine!
Cheers,
Dorraine
About Dorraine
A Southern Missouri native, Dorraine Darden was raised on land which bordered the Mark Twain National Forest. She has worked in forestry and taught ballroom dancing. She lives in Texas with her husband and three children.
Dorraine's Favorite Books
The October Country Look Homeward Angel Boone A Sudden Country A Map Of The World The Poison Wood Bible East of Eden