Weather Channel Newscaster H.W. "Buzz" Bernard Announces 'Eyewall Virtual Book Tour 2011′

Join H.W. "Buzz" Bernard, author of the suspense thriller novel, Eyewall (BelleBooks), as he virtually tours the blogosphere in May 2011 on his first virtual book tour with Pump Up Your Book!
About Buzz Bernard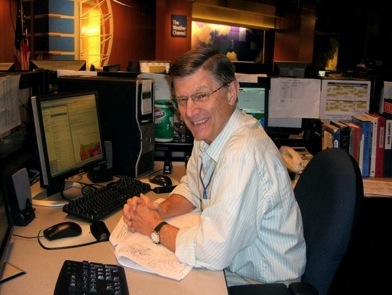 H. W. "Buzz" Bernard is the author of five nonfiction books on weather and climate. Eyewall is his first novel. He's won numerous awards over the past decade as both a fiction and nonfiction writer. Buzz is a veteran meteorologist having spent 13 years as a senior meteorologist with The Weather Channel, and 33 years as a weather officer in the U. S. Air Force. His background as a meteorologist informs Eyewall. He's had first-hand experience with hurricanes, having penetrated the eyewall of Hurricane Felix in 1995 with the Air Force Reserve Hurricane Hunters. The mission he went on wasn't nearly as exciting--or as terrifying--as the one described in Eyewall, but he did get an up-close and personal look at how the job is done. At The Weather Channel, he worked closely with some of the most highly regarded hurricane forecasters in the business. Besides his trip with the Hurricane Hunters, he's flown air drops over the Arctic Ocean and Turkey, and was a weather officer aboard a Tactical Air Command airborne command post (C-135). Additionally, he's provided field support to forest fire fighting operations in the Pacific Northwest, spent a summer working on Alaska's arctic slope and served two tours in Vietnam. Various other jobs, both civilian and military, took him to Germany, Saudi Arabia and Panama. He's a native Oregonian and attended the University of Washington in Seattle where he earned a degree in atmospheric science and also studied creative writing. After leaving active duty with the Air Force, he spent twenty years in New England, but now lives in The New South. Along with his wife, Christina, he calls Roswell, Georgia, near Atlanta, home. You can visit his website at www.buzzbernard.com or visit him at Facebook at http://www.facebook.com/profile.php?id=100000867910949.
About Eyewall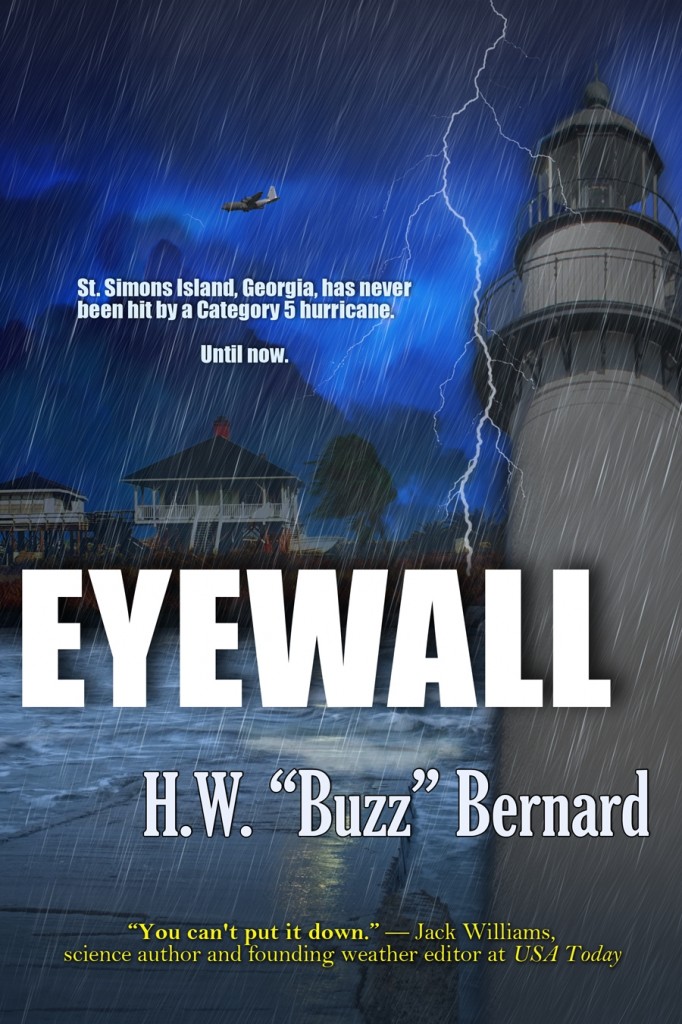 Eyewall takes you on a dramatic ride into the eye of a major hurricane and the lives of the people who challenge it. Major Arlen Walker is on his final mission with the Air Force Hurricane Hunters. As commander of a WC-130, he's been tasked to recon Hurricane Janet just off the Georgia coast On paper, the flight looks like a milk run. In reality, it turns out to be anything but. Walker, having been briefed that the hurricane is weak, penetrates the storm hat low altitude. Too late, he realizes Janet has turned savage and that he's chosen a death wish flight level. The hurricane pummels the plane. The aircraft, spewing fuel, limps into the calm eye but is so severely damaged, Walker cannot fly it out. He and his crew are trapped in the center of a catastrophic storm as it swirls toward the mainland.
Visit his official tour page at www.pumpupyourbook.com/2011/04/13/eyewall-virtual-book-tour-may-2011 to read an excerpt of his book, watch his fantastic book trailer and see which blogs and websites he'll be stopping off at during his 'Eyewall Virtual Book Tour 2011'!
Never give up. No matter what is happening. No matter what is going on around you, never give up. —His Holiness the 14th Dalai Lama "
About Dorothy
Dorothy Thompson is the editor/contributing author of Romancing the Soul, a compilation of true soul mate stories from around the world and beyond. She is also the CEO/Founder of Pump Up Your Book, an innovative public relations agency specializing in...