Book Publishing Secrets: A Conversation with Teen Nonfiction Author Susan Louise Peterson
We're talking to authors from all walks of life about their experiences in publishing their book. Some have smooth paths, some rocky, but they all share a common goal – to see their name on the cover of their creation. It's interesting to read what path they decided to take to get there and my guest today is here to tell everyone what he/she did in order to make it all happen so that other writers will learn a little something from the experience.
Today we are talking to Susan Louise Peterson, author of the teen nonfiction, The Yes Book for Teenagers.
Susan is an author and school psychologist living in Las Vegas, NV. She has taken a twenty year journey working in the tough inner city schools of Las Vegas, Nevada as a teacher and later a school psychologist. Susan has worked with students from pre-kindergarten to high school levels. Working in a large inner city high school she noticed that many teenagers were dealing with communication issues related to their parents, teachers and other adults. Students were given limited information from adults when they asked questions and usually did not understand the 'yes' and 'no' type of responses they received from adults. In response, Susan Louise Peterson wrote two companion books to help teenagers with this communication dilemma. She is the author of the newly released books entitled THE YES BOOK FOR TEENAGERS and THE NO BOOK FOR TEENAGERS.
Susan is an award winning educator and has won several national awards for improving educational practice. She was named to the Practitioners Hall of Fame for Improvement of Educational Practice from NOVA University.
In addition, Susan is the author of the recently published book IS MY CHILD AUTISTIC OR DELAYED? (Vilnius Press-2013), as well as eight other books in the areas of education, research and child behavior.
You can visit her website at www.susanlouisepeterson.com.
Click here to enter the $25 Amazon Gift Card + Books Giveaway!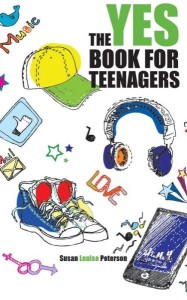 Thank you for your time in answering our questions, Susan. Let's begin by having you explain to us why you decided to write your book?
The Yes Book for Teenagers is just simply a book to help teenagers explore that a 'yes' response can have multiple meanings and may need more explanation.
Is this your first book?
No, this is my tenth book, but it is also has a sister book called The No Book for Teenagers (my eleventh book).
Can you tell us a little about your publishing journey?
I have been writing for more than fifteen years. As a youngster, I would write speeches for the 4-H contests in rural Oklahoma. I started to really enjoy writing term papers (which many people cringe at) throughout college. I later just started writing about my professional experiences in education and related to work as a school psychologist.
What lessons do you feel you learned about the publishing industry?
I learned that the publishing industry personnel can change often. An editor may like your idea, but they retire or change jobs and the next person in the job may not be so fond of your writing style.
If you had the chance to change something regarding how you got published, what would you change?
The publishing world is often looking for a hot selling person or idea and can make quick deals if they want to proceed with the project. On the other hand, I think the writers need to become like this as well. When I send a manuscript to someone and they need 6 months to a year to even tell me they are interested in my work, I simply move on to another person or company who is more efficient.
Did you credit any person or organization with helping you get published?
I think many people help you along the way in writing. Fellow writers have shared with me strategies they have used to get works published and this has been helpful to me.
What's the best advice you can give to aspiring authors?
I think aspiring writers can always benefit from training in marketing and promotions.
Never give up. No matter what is happening. No matter what is going on around you, never give up. —His Holiness the 14th Dalai Lama "
About Dorothy
Dorothy Thompson is the editor/contributing author of Romancing the Soul, a compilation of true soul mate stories from around the world and beyond. She is also the CEO/Founder of Pump Up Your Book, an innovative public relations agency specializing in...