Book Publishing Secrets: A Conversation with New Adult Author Lilliana Anderson
We're talking to authors from all walks of life about their experiences in publishing their book. Some have smooth paths, some rocky, but they all share a common goal – to see their name on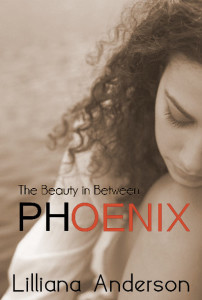 the cover of their creation. It's interesting to read what path they decided to take to get there and my guest today is here to tell everyone what he/she did in order to make it all happen so that other writers will learn a little something from the experience.
Today we are talking to Lilliana Anderson, author of the New Adult Drama, Phoenix: The Beauty in Between. Bestselling Author of the A Beautiful Series, Alter and the Confidante Trilogy, Lilliana has always loved to read and write, considering it the best form of escapism that the world has to offer. Australian born and bred, she writes New Adult Romance revolving around her authentically Aussie characters as well as a biographical trilogy based on an ex-Sydney sex worker, named Angelien. Lilliana feels that the world should see Australia for more than just it's outback and tries to show characters in more of a city setting. When she isn't writing, she wears the hat of 'wife and mother' to her husband and four children. Before Lilliana turned to writing, she worked in a variety of industries and studied humanities and communications before transferring to commerce/law at university. Originally from Sydney's Western suburbs, she currently lives a fairly quiet life in suburban Melbourne.
Visit her website at www.LillianaAnderson.com.
Connect & socialize with Lilliana at Twitter: https://twitter.com/Confidante_Lili
Like her on Facebook: http://www.facebook.com/LillianaAndersonAuthor
Add her as a friend at Goodreads: http://www.goodreads.com/author/show/6533406.Lilliana_Anderson
Thank you for your time in answering our questions, Lilliana. Let's begin by having you explain to us why you decided to write a book?
I've always written in some capacity, and have started writing more books that I can count. It's always seemed like such an overwhelming task. But, when I teamed up with my mother in law, and wrote her biography - Confidante: The Brothel, I realized that, with a little support, I could see a book through to its end.
Is this your first book?
No, Phoenix is my eighth book.
Can you tell us a little about your publishing journey?
When I started writing, I did a ton of research on how to get your book published. I had always thought that you had to find an agent and go through a publishing company and was concerned about paying for the manuscript vetting service they all seemed to require.
Upon further investigation, I realized that I could self-publish.
At the time this seemed perfect for me. I figured I could test the waters, and see if I could actually write well enough for readers to want to buy my books.
This has worked out really well for me as I'm in complete control of my own pricing and promo work.
What lessons do you feel you learned about the publishing industry?
That with a lot of hard work and careful planning, you can do well on your own.
If you had the chance to change something regarding how you got published, what would you change?
I would still self-publish, but I would probably start writing seriously earlier.
Did you credit any person or organization with helping you get published?
My mother in law, because it was her story that prompted me to start writing.
What's the best advice you can give to aspiring authors?
Read, read, read. For research and for fun. It's important to know what's out there and what people want.
Never give up. No matter what is happening. No matter what is going on around you, never give up. —His Holiness the 14th Dalai Lama "
About Dorothy
Dorothy Thompson is the editor/contributing author of Romancing the Soul, a compilation of true soul mate stories from around the world and beyond. She is also the CEO/Founder of Pump Up Your Book, an innovative public relations agency specializing in...