A conversation with The Unsinkable Bestselling Author Vincent Zandri who sells thousands of ebooks a day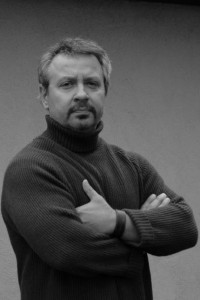 I have the enigmatic and talented Vincent Zandri today as my guest at Red Room because he is such an icon and I'd like to give Red Room readers a chance to find out about him if you don't already.
Let me tell you his story.  Vincent was published traditionally by a big publishing house.  I say "was" because frankly he has found a better way to sell books.  I won't give anything away yet, but let him tell you how he does it.
I met Vincent through booking a tour with Pump Up Your Book, a company I run with four other wildly eccentric girls to help authors sell their books.  I immediately was struck with fascination and oh my he was so full of charm, very personable and it's no shock that today he has many many groupies who can't wait for the next Zandri novel.
But it was something he said to me one day that really floored me.  He said that because of his tours with us, he became an Amazon bestseller.
When Vincent told me that, I immediately told him, "Vincent, you have a damn good book and that's why it is selling as well as it is."
He argues the fact, I argue back, but truth be known, he is selling thousands of his ebooks every day and no matter the reason, it's phenomenal.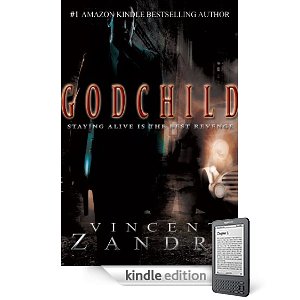 I say ebooks because between him, I and his publisher, Aaron Patterson of StoneGate Ink, ebooks are the way to go.
Don't get me wrong.  Paperbacks still have a great place in our society, but ebooks are allowing authors to become overnight sensations.  They are selling hundreds, thousands, and the authors are actually making more money for themselves and their publishers than through their paperback counterparts.
But, I digress.  Let's meet Vincent, who just so happens to be on a virtual book tour (one of many) with Pump Up Your Book and we're so proud to have him.
Welcome to my little space at Red Room, Vincent.  So what's happening?  It used to be everyone wanted a contract with a traditional publisher, then whamo bamo, it's ebooks now.  What do you think happened and where do you fit into this?
Vincent:  What happened is not that E-Books and sexy readers like the NOOK and Kindle came along, but the ivory tower nuthouses that were once the Big 6 Legacy Publishers based in New York City have finally been exposed for what they are. A business run by men and women who could care less about books and even less about authors both as developable talent and human beings. So when along comes indie publishers like my own, StoneHouse/StoneGate Ink in which your books not only are edited and released within a couple of months but you are handed a 50% royalty rate, you begin to realize, Wow, I no longer need to bend myself over in the most humiliating way for Big NY. And I'm of course, speaking from real experience here. My publisher is developing me and all my work and if I so choose, I need never go shopping for another house again. They're my family now. The self-publishers out there are, in some ways, getting an even better deal because they control their own show entirely. And self-publishing no longer carries the stigma it once did. I haven't gone that route yet, but I might try it sooner than later. I might also try publishing with a big house again as well, now that it looks like another deal could be in the works very soon (or so my agent tells me). It's just that the money and the terms would have to be far more equitable than they were in the past. I'm being hard on Big NY admittedly, and I still have friends who edit for one or two of the houses, but you know what, they were hard on me and my family. And no one messes with my family!  
When your publisher told you he wanted to try out your already released paperbacks as ebooks, what was your first reaction?
Vincent: Are you high? Ha! Seriously. This was only last year and I thought he might be putting the cart in front of the cow, but when he explained the method behind his madness, and detailed for me how he was making a solid living off the Kindle royalties alone for one of his novels, Sweet Dreams, I thought, Man, Go for it! Best move I ever made! BTW: our trade paper sales are strong too. It's just that we make far more money with our E-Books. Paper is icing on the cake as it were.
Speaking of Aaron Patterson (oh we weren't?), he seems to be a dynamo.  Where do you think he got this vision – that ebooks were going to be the big money makers?
Vincent: Well Aaron is very spiritual and I believe the story goes something like this: he was walking the aisles of a bookstore one day when he came upon a book that was burning. And the Lord spake to him, saying "Aaron, on this day you shall lead legions of suffering authors to the promised land of E-Books, and they shant ever look back upon their pain and suffering again." Chapter 1, VS 5, The Book of Aaron…Ok, seriously, I'm pretty sure he just sort of stumbled upon it when he was trying to get his first book published. He was like, Oh, there's this E-Book thing. Think I'll give that a shot!!! (Aaron, I'll expect a comment from you on this topic!)
How did you and Aaron meet in the first place?
Vincent: In Juvenile Detention in Gainesville, FL. Ok I promise to stop lying. But that's what I do for a living…My former agent Janet Benrey (who is still like a second mum to me), struck a deal up with him, tossed me his number and told me, "He's expecting your call." The two of us haven't stopped calling one another at least two or three times a week since. He's my big little brother (I'm 5'7". He's like 6' 3"). 
Go back to the first time you were introduced to social marketing – Twitter, Facebook, what have you – what was your first impression?  Did you see it as a waste of time and had to get used to it or did you see the future and that you'd be getting legions of fans through it?
Vincent:  I've been on FB and Twitter for like three years. I toyed with using it as a marketing tool, but it never really occurred to me how powerful it could be until Moonlight Falls was published in December of '09. There were no manuals out there about the subject of book marketing via the social network or anything like that so I just made it up as I went along. I had a much more direct approach back then that verged on spamming I guess, but I really didn't know any better. But it worked and my sales were increasing every week exponentially, even if I was pissing off a few people along the way. Now I only market in an indirect way and I no longer bother people with messages asking them to buy my books, and the method works even better.
Everyone wants to know what's the Zandri ebook selling phenomenon all about?  Are you actually selling thousands of ebooks each day?  Which ones are selling the best?
Vincent: Yah, I'm selling anywhere from 2000 (a slow day) to 3,000 (a good day) per 24-hour period. We calculated that every 32 seconds or something like that, someone downloads one of my books. Ha! I might be off by a few seconds but you get the point. The Innocent has been selling the best recently, having been listed in the Top Ten Selling Amazon Kindle E-Books for more than a month. Godchild, its sequel is right on its tail, selling in the Top 50, and The Remains is close to that as it approaches the Top 100. Concrete Pearl, my brand new series, is released in a couple of weeks. Fingers crossed it too hits the Top 100 right out of the gate! What's the reason behind the great sales? I don't know. I only know that I have some terrific reviews from Harlen Coben (thank you again, Harlan!), The New York Post, The Boston Herald, The Seattle PI, etc., from my previous Random House publications and I have really great Mommy and Daddy Bloggers who are always promoting me, and a publishing house that pushes the crap out of my stuff. I'd also like to think the books live up to their promise as both thrillers and great literary reads. In any case, it all adds up to some pretty astounding sales, even if the New York Times Review of Books refuses to acknowledge the fact that I sell more E-Books right now than Stieg Larsson and Stephen King!
Let's say there's a thriller author who wants to follow in your footsteps.  What would be the first thing you'd tell him or her?
Vincent: It just so happens that my youngest son Harrison, 17, who is being home schooled wants to be a novelist. First things first. Read, read, read, and read some more. But the difference between me and his normal public high school which was horrible, is I want him to read whatever turns on his brain and creative juices. Not the politically correct non-racially biased bullshit they forcibly serve up in the high schools that does not even come close to reflecting reality. Next thing is write. Write until your fingers fall off. Start a blog, and a Facebook page and begin to build your tribe of fans, fellow authors and like-minded friends. Harrison is already a couple of chapters into his first novel, HOWARD; a novel greatly influenced by A Catcher in the Rye.
(Incidentally I "met" Harrison "The Bear' at one of Vincent's chats while he was on tour and the apples don't fall far from the tree!)

What kind of thriller oriented hangouts do you visit online?
Vincent: I'm on Crimespace and Edgey Christian Fiction. I'm an Active Member of ITW also, a great organization for writers and readers. I'll be appearing at the ITW Conference in NYC on July 6th if any of you readers out there would like to meet me. Or, if I owe you money!
When you're not on the computer selling books, what are you doing?
Vincent: I travel a lot, and spend part of the year in Florence, Italy. I just arrived back from a trip to Germany, the Austrian Alps and down into Venice. I highly recommend the day train from Austria to Venice. Breathtaking scenery. I go back to Italy in late July and I'll return to the states briefly for the Boise Book Expo in October, then back to Italy. If the right journalism assignment comes up I hope to be in the Middle East before Christmas, and in the spring, Vietnam. Or if the right assignment doesn't come up, which is more likely the case these days publications continue to fold, I'll go anyway and write/photograph about the experiences for "The Vincent Zandri Vox," my blog. I also run everyday, train with weights, box, date (women), fly fish, drink, eat, read, pal around with my kids when they have time.  Sometimes I just like to get lost. I never watch TV, and I never sit down at home. I also hate household chores so I'm a perpetual apartment dweller.   
Do you ever sleep?
Vincent: In spurts. I try and get around 5 hours per night, which is sometimes impossible, and nap for an hour in the early afternoon, a habit I got into in writing school back in the late '90s.
Lastly, what do you believe is the secret to selling ebooks?
Vincent: Plan on working seven days a week marketing yourself. And plan on working seven days a week writing the best work possible. It's tough to maintain a healthy relationship with a significant other while doing this, but eventually your efforts will prove successful. If anyone has questions about the process, I urge them to visit my blog The Vincent Zandri Vox, at http://vincentzandri.blogspot.com
Thank you so much for this interview, Vincent.  It's been fun!  Do you have any final words?
Vincent: Thanks so much for having me. It has been fun. And you're welcome to come visit me in Italy this summer!
(That's a deal!)
Now I would like all of you to run, don't walk, to your nearest online bookstore (does Amazon ring a bell?) and pick up your copy of Vincent's latest book, Godchild.  Critics can't stop talking about how great it is.  The link?  Thought you'd never ask.  Please CLICK HERE.  I mean, it's only 99 cents, for gosh sakes!
Never give up. No matter what is happening. No matter what is going on around you, never give up. —His Holiness the 14th Dalai Lama "
About Dorothy
Dorothy Thompson is the editor/contributing author of Romancing the Soul, a compilation of true soul mate stories from around the world and beyond. She is also the CEO/Founder of Pump Up Your Book, an innovative public relations agency specializing in...