Chapter 104 ... Menier's Disease
God grant me the serenity to accept that people are ignorant, the courage to uphold the law when I'm hostile, & the wisdom to realize that murder is illegal
__________________________________________________________
Mel and I celebrated our anniversary of 14 years.
We had two of them. The day we met, March 15,1996, the one I honored. That is the one she decided wouldn't work since I had not ended my relationship with Wendy.
In June of 1996 my friend Mike Flores had invited me and a friend to go to a concert of the Moody Blues at the Cynthia Woods Mitchell Pavilion.
Mel didn't want to go, so I met Mike there. But when we arrived, Wendy was there, she had gotten wind of my plans and ran interception. And she was all over me during that concert which annoyed the hell out of Mike.
Mike and I met through AutoCAD. I was the president of the local nerd meeting and he attended. He said he was impressed with my skills and knowledge. But he never missed a beat trying to take me to bed. I found his attacks humorous. His wife Ruth was the real catch. But I don't do things like that. She and I became fast friends and she pretty much relied on me to talk sense into Mike when he was acting out.
One night we got exceptionally drunk and ended up at his house with his wife out of town. I was mega messed up and he almost had his way. But, I am horrible, but when I saw his equipment or lack thereof, I started laughing and he got insulted thus our relationship is over. Shame on me. But shame on him for cheating on his wife.
I told Mel the truth on that night I attended that Moody Blues concert with Wendy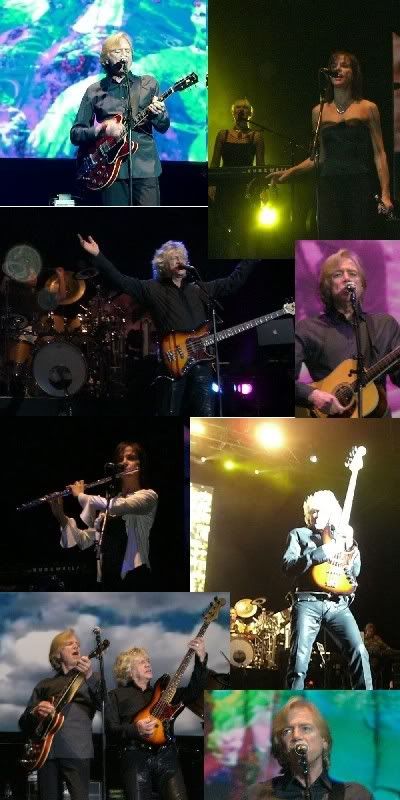 and she nixed our first anniversary and said it was changed to June 15. She didn't move in officially till then any way.
So on June 15th, 2010, we celebrated our anniversary on a cruise. How we were affording it, I have no idea. As a matter of fact this was the second that year, and the third since June of the year before. We were not rich, even though Mel had been able to get me a significant monthly check from Social Security. I had been diagnosed with Meniers. A nasty ailment that makes one pass out when they stand and made me deaf in one ear. I had broken my wrist from such a fall when we went on that second cruise.
We were in the lobby of the hotel we stayed at in Miami the night before we boarded ship. I had left Mel's side to look at some items in a gift shop and as I turned to call to her I went down and girded my 200 pound body on my left hand busting up my wrist. I ended up at Cedars Sinai where they put me in a beautiful room overnight with a broken wrist and questionable results from an EKG.
While on the ship, I was in a gift shop where they sold expensive jewelry with diamonds, rubies, and emeralds. Anything precious. The shelves were glass. As I was looking at some watches in the back of the store I had an attack, grabbed the shelf and everything crashed in domino fashion.
Security came from all over the ship. They cleared out the customers quickly. Thankfully I was wearing a long dress, because everything was open for approval. There were shards of glass everywhere, mingled with diamonds, it was a sight and gratefully I was not cut, nor was anyone else.
The shop keeper was just wonderful and so compassionate. I was taken to the doctor's cabin and once again after a couple hours was cleared. But I became afraid to go anywhere and stayed hulled in my suite. Thankfully Mel got a room with a deck . I had been on several cruises by then, so I wasn't missing anything.
People who take many cruises usually do not go on excursions after they have been before, and a room with a deck is pure heaven.
But Mel was becoming less and less patient with me. One day while she was on an excursion, and I was left alone – again, I decided to make a comb for my hair with butterflies. We were on an island that was famous for them and the theme was Butterflies that evening at dinner. I was supposed to go on an excursion to see the butterflies, but it got cancelled. Just like an earlier excursion for a dolphin swim. I never checked to see if Mel was correct in her information, I took her at her word that the excursions were cancelled. I decided to make the comb. I also had a clutch that I bought cheaply and decided to do that as well.
When Mel arrived back from her scuba tour I was sitting on the floor arts, crafts, beads and glue all around me. She went ballistic.
"Dinner is in an hour! Dianne WHY DO YOU DO THIS! You are constantly fucking everything up!"
What? Since when? She never spoke to me like that before. Lately she had become impatient with absolutely every aspect of me. And now I fucked everything up?
She also said I talked too much as well!
People loved being around me. My lovers always said I could make friends anywhere I went, bombs could be exploding all about and the first person I saw would be sitting there laughing…and probably crying with me. Mel and I would talk for hours. We took road trips instead of using planes or trains. She always loved those times and talked often of them to others. But now, when I would make friends with people she would be quick to anger.
And when we were alone…the more she complained I talked too much, the more I talked. The more I talked the more she complained. It was more nervous anxiety than anything. Only words can solve issues right?
That night at dinner, I met two new ladies at our table and they found me utterly charming. How do I know?
"Mel!" one of them said "She is utterly charming!"
This in spite of the fact my craft work was only half done leaving me looking like a fashion terrorist, a person bordering on cartoon,
You see I had not attended dinner the night before. I had just left the hospital, and Mel had ordered me to bed, having my dinner brought up.
Now it seemed as if I was in competition with Mel for the other guest's attention. Most uncomfortable. And if I stayed silent, she accused me of being antisocial.
The cruise continued in this fashion, most days me in our cabin Mel was either scuba diving or in the casino. She would come back to the room excited about her winnings or her scuba trips, going on and on. Me listening intently, but when I would start speaking, she would leave.
I suppose I should be glad she didn't take advantage of my Meniers and knock me off my balcony into the shark infested waters of the ocean. I'll bet she didn't think of it, because a few weeks later we watched a Nightline where just such a thing happened and she got that look on her face that said she was thinking. I know this look because it didn't happen often.
Folks…things are not right with the world.
____________________________________________________________
Beginning of Book
The Music of 'If It Seems Too Good To Be True' on Youtube
______________________________________________________________
Yes, this is absolutely positively true. If you lived this wouldn't you write about it? Some of the names of characters in this blog are fictitious. This is an account of actual events. Some of the events have been compiled together for the flow of the story. Even when I read my own work, I wonder how it could be so. But if you study your own life and compartmentalize it into less than 200 pages, you would be surprised how interesting it really is!
TRUTH HAS WITNESSES (Dianne Lindsey) This material is the copyright Dianne Schuch Lindsey and cannot be duplicated in any fashion without the express permission of the Author. All rights reserved ©

"It is the addition of strangeness to beauty that constitutes the romantic character in art. " (Walter Pater). It is my experience that ALL art is accidental and that the eye is seduced by symmetry. It is the combination of those two elements that keep me industrious."
—Walter Pater and Dianne Lindsey
About Dianne
I have worked in several fields, but I am living what I have always wanted. Writing, drawing, creating. My blog is the true story of the pain in personal choices and an ultimate forced addiction that should have killed me. And it is set to music. I spend...