More about my event!!!! And my shameless self promotion!
Hey all!!!
I wanted to make a blog about my Journey Into Comics program for the Portsmouth Public Library system. The flyer is located here: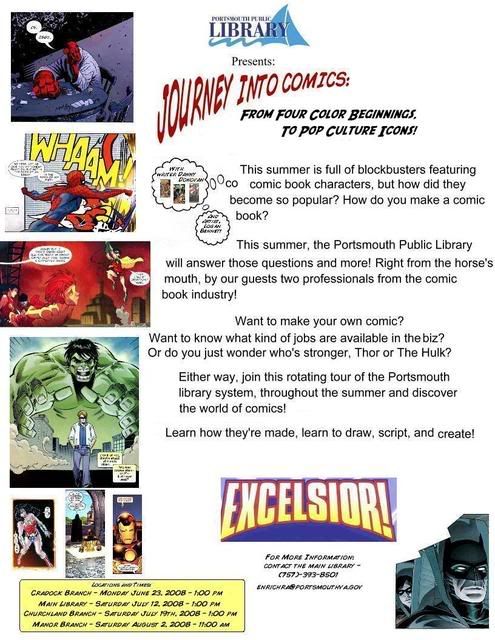 Now in the process of this tour, I will be telling people just what makes this medium so effective, and why it's taken Hollywood by storm, with everything not nailed down being optioned (and those that are being pried from their housings) and how they can get into the business, and how to create their own book.
It will be a light program, because I think the majority of the audience will be teens, so I won't be going into the minutae of trademark and copyrights, marketing, and all that other stuff. It'll be fun and we'll have a lot of great concepts. As the flyer indicates, a very talented local artist Logan Bennett will be joining me on some of the dates, to handle the art side of things. We'll be doing script to page comparisons and all sorts of stuff!
I really enjoy doing these things, I've done them in the past solo, this will be the first time I have a friend to work with on it, and thus allow me to plan more elaborate things, (have someone with the same mind frame setting up for the next segment as the other is working on theirs) I've done schools and libraries in NC and MI and this will be the first time I've been able to "give back" to my homestate here in Virginia.
When they asked me to do a program I was thrilled and I am really looking forward to getting back on the public speaking bandwagon.
In other news, I am in full on competition mode for this housewarming contest. So that means a lot more content on the ol' page, so check back more often I will try to add something new, whether it be an article, a blog, a video, etc. every day or every couple of days, depending on how much is on my plate.
In two weeks I am heading out to Heroes Con in Charlotte NC, and the day after I return (or really a few hours after I return) I'll be starting the first leg of the library things, and I have committed to doing Dragon*Con in Atlanta GA this labor day weekend.
I am so excited about doing cons again. I haven't really done one since 2006, and It's been since 2004 since the last time I did a Heroes Con. (when I moved from NC to VA) Heroes Con is without a doubt one of the best conventions of the entire year. Shelton Drum puts on a real family affair, and everyone feels welcome and at home at his con.
I won't be tied to a table, so I will be enjoying roaming the con floor as a fan, and getting to see friends I haven't spoken to in years. I think that's the best part of conventions and the hardest part of freelancing. Cons are almost like "class reunions". Due to the nature of flowing all over, working for seperate companies, or you know vanishing from the industry for a while to cool off after being burned out, or any number of things, it can be easy to lose touch with people.
At a con it's so easy to pick up where you left off, hang out at the after parties for hours and just catch up on all the things you missed and get a peek at what secret things they're planning.
The only bittersweet part of this will be, despite everyone that will be there, it will be the first year, I'll be at a Heroes Con and Mike Wieringo won't. :( I still have my framed sketch of Arrowette (from DC's Impulse title) Mike did for me at a previous Heroes.
Mike was the nicest, most supportive person ever. And I always looked forward to speaking with him at every oppertunity. When he passed away, it was a big blow to the industry and there will probably never be another like him.
But, it will be a wonderful show and I am so looking forward to seeing old friends, making new ones, and sitting in on panels and enjoying private time at the after hours functions.
Exciting!!!
Be Excellent To Each Other "
—Bill S. Preston, Esq. & Ted 'Theodore' Logan
About Danny
Self proclaimed "Writer At Large, and Shameless Self Promoter", Danny Donovan began his foolhardy pursuit of a freelance career at the age of 18. He began working on the super-hero/comedy web comic Hardcore with artist Daniel C. White, and learned the ropes...
Causes Danny Donovan Supports
Danny's Favorite Books
I Am Legend, Worlds That Weren't, V For Vendetta, The Phalanx Covenant, American Gods, Starman, Sandman, Mirrormask, Do Androids Dream Of Electric Sheep, (...