Back from the dead, re-KINDLE-ing my blog!
Wow! I hope you will forgive my bad pun for the title of my blog. I actually have submitted my RED ROOM AUTHOR PAGE BLOG to be made available on the Kindle service from Amazon.com. So if any of you out there have purchased Amazon's expensive e-reader, then you can hear me wax idiotic about a myrad of topics.
 I did this for two reasons. First, I love new media. Not just because "it's new" but because it feels old. More specifically like "the old west", going forth to strange new lands in search of glory, riches, and cheap sarsaparilla. And second, because I hope this helps expand the "brand" of Redroom.com 
The title of the purchasable blog will be "CRISIS ON INFINITE BLOGS" which was the name of a column I did elsewhere for a short period but my banner will fly RR colors:

Also with a full link to my RR Author page! I am excited, supposedly it will go live in the next 48-72 hours so this could be the first of my Kindle available posts. I will make an annoucement when things are all official like!
*edit*   It is here: http://www.amazon.com/gp/product/B002A7XRGA    */edit*
I know my last blog was in Jan just before I left for the inauguration, as most would figure, it was cold and crowded, I did get on TV but sadly my DVR ate the recording along with 10 hours of other programing when it gave up the ghost. I will be getting in touch with the local NBC affiliate to see if I could get a copy of it.
It was a wonderful experiance despite the cold and the crowds. To be there as a President you worked for (and a fellow Red Room alum!) takes office and swears in! I may go to the next one as it will be less special and probably less crowded so I have a chance at a more comfortable view.
I headed to the New York Comic-Con in Manhattan in Febuary, with my artist Gigi and one of her lovely daughters Venessa, quite an experiance. My first time actually STAYING in NY. Usually I just go straight through on my way to or from JFK, or in the case of my appearance at the fireman's museum when they had pages of my 9-11 story on display at the "Heroes Among Us" exhibit, I was in town all of about 4 hours then after the party went straight back to my then home in NC.
I got a photo with Heroes actor Milo Ventimiglia  (I have to google his name to spell it correctly,) who I met in the "green room" while Gigi and I were taking a respite from the hectic and crowded convention hall.. He was an awfully nice guy, and the photo is in my new gallery in the photo section along with a couple of others. I will add to it as I find the other pics. Sadly we didn't get a ton, too busy wheeling and dealing.
The last two months, I have been busy working on a few projects. I was "in" another movie, it was a short film titled 286, which was the story of the first female marathon runner. I was one of the "extras" running back and forth.  Gigi and I submitted a story to the Zuda Comics (DC Comics' webcomic branch) competition the end of March and I am anxiously awaiting to hear if we have made it into the show! Whatever the response I will post about it here, (and by default Kindle!) if we are rejected I will post the finished pages here for all to see.
Currently hard at work on the Nocturne manga (Gigi again on the art!) I would show some of the prelim artwork but my editor breaks out the choke chain when I do that without clearing it past her. My editor, the lovely and talented Barbara Randall Kesel, is a joy and an honor to work with. She is the former editor of Alan Moore's seminal piece WATCHMEN, (now a major motion picture) and a writer of note herself not only working with CrossGen comics, as editor and writer but also doing one of my favorite DC books Elseworld's Finest with Supergirl and Batgirl, currently working on IDW's Ghost Whisperer (based on the CBS drama) and The Dark Crystal (based on the Jim Henson cult classic) I am sure I am leaving something out but it is awesome to have her red pen of doom guiding my much in development piece.
However, I have completed 2 projects (one with art I can show!) a backup story for the Honor Brigade trade paperback collection featuring the character "Deadeye" with art by Cary Vonblinden, Katrina Keller, and Logan Bennett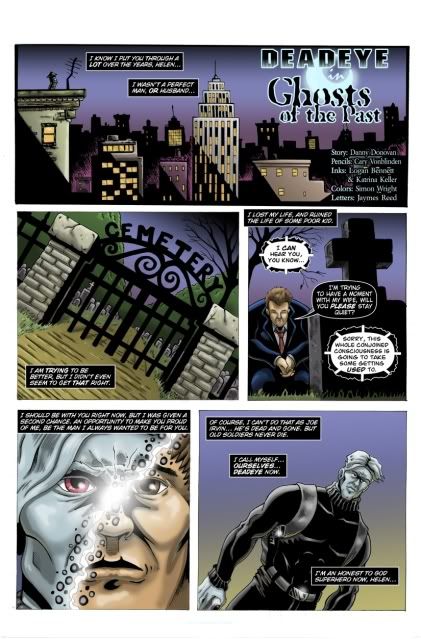 I want to say that it should be in shops by the end of next month but I will certainly keep everyone abreast when the release date is nailed down. I did a short story for the Aym Geronimo collection, flying solo this time in a prose adventure. Again, release date TBD but will let everyone know when it drops.
In new news about old projects. The film I did earlier last year "In The Pines" went to the VA Independent FIlm Festival and won top honors. So congrats to the cast, crew, and especially the writer/director/star Chip Johnson for taking home such a prestigeous award and for allowing me to be murdered in the film, and help out with the Production Assistant duties.
Next month I will be off to Charlotte, NC to attend HEROES CON one of my favorite shows. I will be somewhere! I have been told I have at least half a table waiting for me. :) Lots of old friends coming in for that, and some new ones I made at NYCC in Feb. And of course Gigi and her brood will be there in full force!
Before I sign off, I do want to thank REDROOM founder Ivory Maddison for sending me a complimentary copy of her Huntress TPB. It was a wonderful story, and one of the truest interpretations of Helena Bertenelli in a long time. I will put up a review at a later date! Thank you so much for the book, and for including me in your stable of authors on this awesome site!
I think that's all the news that's fit to print and gives you a rough idea of where I've been from Jan 19th to now! And hopefully these will not be so few and far between. 
Be Excellent To Each Other "
—Bill S. Preston, Esq. & Ted 'Theodore' Logan
About Danny
Self proclaimed "Writer At Large, and Shameless Self Promoter", Danny Donovan began his foolhardy pursuit of a freelance career at the age of 18. He began working on the super-hero/comedy web comic Hardcore with artist Daniel C. White, and learned the ropes...
Causes Danny Donovan Supports
Danny's Favorite Books
I Am Legend, Worlds That Weren't, V For Vendetta, The Phalanx Covenant, American Gods, Starman, Sandman, Mirrormask, Do Androids Dream Of Electric Sheep, (...