A Heroes Welcome - Heroes Con '08 and a Journey Into Comics...
So I have returned from Heroes Con 2008 and it was really a wonderful time with some highs and lows. Now, the art monkey I was going to ride down with, (Logan Bennett, who is going to be helping me with a lot of these speaking engagements) called me about 5 hours before we had to leave and told me he had to work Friday.. I cleaned that up a bit as the orginal Logan rant was chock full of colorful language.
Anyway, I sadly could not lose a day of conventioneering. (I totally coined that phrase and as such people should put it in the dictionary next to truthiness, and I don't want to hear any mess about a dictionary being alphabetical, that's elitest talk!) as I had some meeting planned for that day. So I caught a red-eye greyhound for a 10hr jouney to Charlotte, because for some reason we had to go north to go south.
I didn't sleep on the bus at all because I had an expensive bottle of vodka for Powers artist Mike Avon Oeming since he promised me free art for booze, along with cash and an expensive phone so I didn't trust aaaanybody there. :p It was a long ride but I got there Friday morning, caught a cab up to my hotel and sadly only had $20s on me. and all he had was twenties as well so he wound up with a sizable tip on a $4 fare, so all weekend long he would see me walking around Charlotte and start honking and waving.
Friday was a hard day. Not just because it was a long trip up but because this is the first year Mike Weiringo was really gone. I think for most people, it sort of wasn't real until that day. Mike is a staple of Heroes, so to do the show without him is well.. different.  I was walking aroud and I got recognized by DC Editor Jann Jones and I got hugs which was awesome. 
There were a lot more costumes than I've ever seen at a Heroes Con in the past..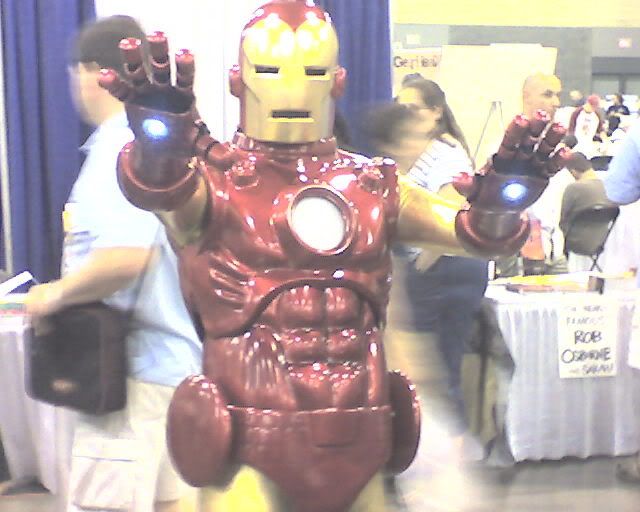 this was by far the best one. His chest piece lit up, and  the hands lit up as well. He had a voice changer in the helmet to make it sound more robotic.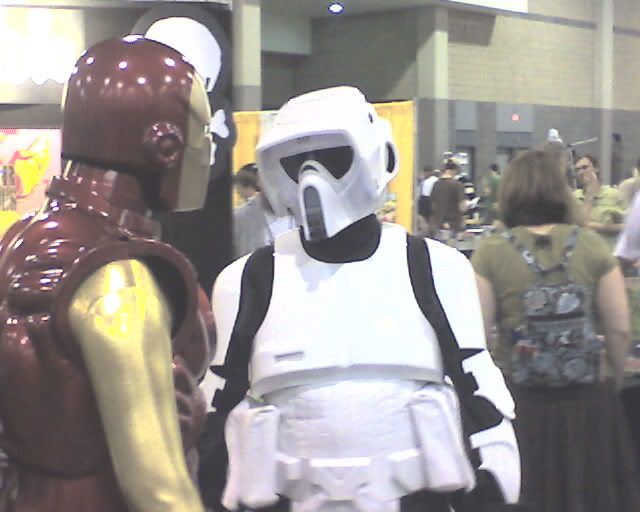 There was almost trouble...
 But he just wanted to help. Take THAT Manderin.
We had people on hand to keep the bumpities and spookables at bay.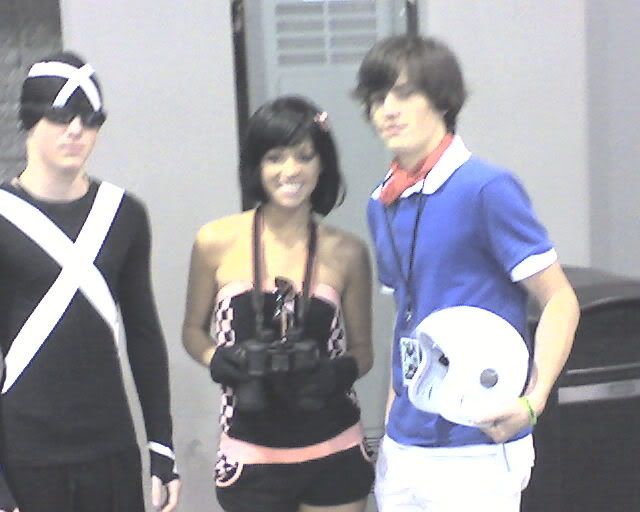 Go speed go!
I also got a few photos with myself (and I didn't break the camera, thankfully because I had some lovely people in the shot with me.)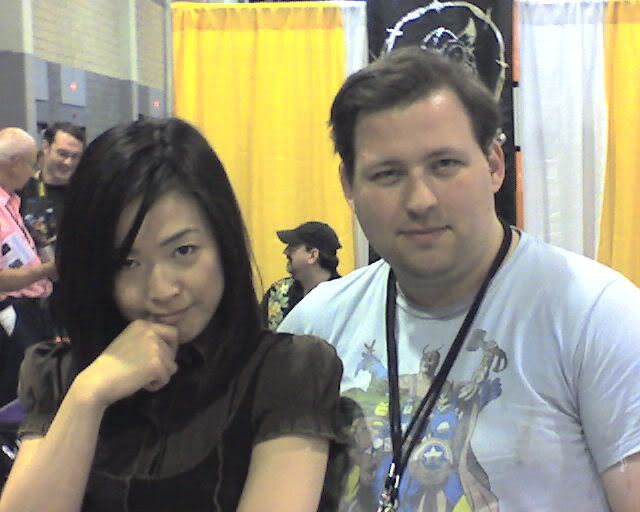 The lovely and talented artist Taki Soma.
The incredibly talented and possible future red room author Genevieve!
 It was a great show, too many years gone by and I hope I will continue my yearly tradion next June as well. 
I got a ride back from the late art monkey who arrived on Saturday, around Sunday afternoon at 5pm and realized the next day I would be heading for my first library stop for my Journey Into Comics workshop, but had no format. There was a lot of 'winging it' but there it was a full room! The audience was a lot younger than I thought it'd be, which gave me a little fright. I thought "Oh dear, I can't swear." And after a weekend with a bunch of foul mouthed drunken writers and artists at Heroes Con, all that was floating in my head was salty language. 
It went well, and the press showed up so any one who lives on or around the Seven Cities of Hampton Roads I will have a feature in the July 8th edition of Portfolio Weekly so be sure to pick one up (or several, they are free!) 
Also while I was at the grocery store I got interviewed by my local CW affiliate so if you are in my TV market, and want to see me check out CW's "Here and Now" on July 5th at 6:30am. (for all you early risers or night crawlers) 
I hope everyone is having a wonderful week!
Be Excellent To Each Other "
—Bill S. Preston, Esq. & Ted 'Theodore' Logan
About Danny
Self proclaimed "Writer At Large, and Shameless Self Promoter", Danny Donovan began his foolhardy pursuit of a freelance career at the age of 18. He began working on the super-hero/comedy web comic Hardcore with artist Daniel C. White, and learned the ropes...
Causes Danny Donovan Supports
Danny's Favorite Books
I Am Legend, Worlds That Weren't, V For Vendetta, The Phalanx Covenant, American Gods, Starman, Sandman, Mirrormask, Do Androids Dream Of Electric Sheep, (...