Writers ~~~~ Walk This Way >>>>>>
This article about writers and walking is, er, right up my alley. I attempt to get in a two hour walk a day. I started because, frankly, any sort of prescribed exercise regimen bores me silly. I can't say my brain is a'hummin' with plots and characters, and I imagine my writing "Eureka" moments whilst walking are one per every five years. But you never know what new thing you are going to see around every corner.
walking stick
* * * * * * * * * * * * * * *
Path to enlightenment: how walking inspires writers
A new book that claims walking and writing are one activity uses great dreamers to make its point, but the walker-writers passing through Connemara seem to have drawn on simpler inspirations
by Billy Mills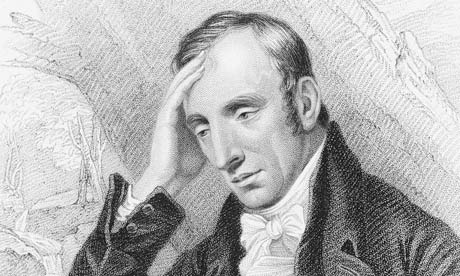 William Wordsworth … 'romantic individualist'. Photograph: Bettmann/Corbis
Beside the pier at Rosroe, at the end of the road, by the mouth of Killary Harbour, on the fringe of Connemara, there's a quite ordinary looking house. The last time I saw it there was a sign on the door saying it was no longer a youth hostel, a function it had served admirably well when I first saw it 40 years ago this summer having walked the breadth of Connemara to get there. Before becoming a hostel, the house was home to the poet Richard Murphy, and before that again, to philosopher Ludwig Wittgenstein, who ended up staying there, as he said himself, because he "could only think clearly in the dark" and in Rosroe had"found the last pool of darkness in Europe". The nearby replacement hostel will serve as the starting point for the forthcoming 16th annual Connemara marathon walk, which will cover much the same route as I took all those years ago.
I've been thinking about that house a lot over the last while, thanks to a serendipitous conjunction of events. The first of these was the completion of the latest round of work on a collaboration with the composer David Bremner for this year's Béal festival, in Dublin, a choral work called Loop Walks, sections of which are intended to evoke more recent strolls in Connemara. The second was reading Murphy's 2002 memoir, The Kick, and the third was the arrival in the post of a copy ofMerlin Coverley's The Art of Wandering, within days of finishing the first two. Appropriately enough, having been addressed not to the house where I now live but to one where I lived 10 years ago, the book found its way to me courtesy of that professional wanderer, our local postman.
Coverley's interesting thesis is, essentially, that walking and writing are one activity.
(more)
http://www.guardian.co.uk/books/2012/aug/09/how-walking-inspires-writers
(image)
http://www.okokchina.com/product/Wood-Wicker-Bamboo/Wood-Crafts/index_40.htm