Write Faster And Keep Your Balance
"Try to limit your working hours, write at a set time each day, and try your best not to emotionally flip out or check email every 20 seconds. This is called "engineering" your environment"
SlowpokeHow to be a faster writer.
By Michael Agger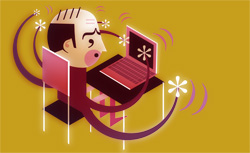 Hunched over my keyboard, I'm haunted by anecdotes of faster writers. Christopher Hitchens composing a Slate column in 20 minutes—after a chemo session, after a "full" dinner party, late on a Sunday night. The infamously productive Trollope, who used customized paper! "He had a note pad that had been indexed to indicate intervals of 250 words," William F. Buckley told the Paris Review. "He would force himself to write 250 words per 15 minutes. Now, if at the end of 15 minutes he hadn't reached one of those little marks on his page, he would write faster." Buckley himself was a legend of speed—writing a complete book review in crosstown cabs and the like.
I remember, too, a former colleague who was blazingly fast. We would be joking at lunch—"Imagine if David Foster Wallace had written a children's book"—and there it would be in my inbox, 15 minutes later. Not a perfect draft, but publish-it-on-your-blog good. He could sit down at the keyboard and toss off Chopin or Ragtime, while I was banging away at Chopsticks and making lots of mistakes. Dun-dun-dun-dun-dun-dun-du-dun-dun-dun-dun-dun-du-dun-dun-dun-dun-dun-DAH!
It's no secret that writing is hard … but why can't I be one of those special few for whom it comes easily? What am I doing wrong? Why haven't I gotten any faster?
In search of the secret of quickness, I started with a Malcolm Gladwell passage that's always piqued me. In Outliers, he discusses the now famous 10,000-hour rule—the amount of time it takes to achieve true mastery—and quotes the neurologist Daniel Levitin: "In study after study, of composers, basketball players, fiction writers, ice skaters, concern pianists, chess players, master criminals, and what have you, this number comes up again and again." Fiction writers? Really?

Had MFA students been sent to a lab and force-fed scones while they typed on their laptops? Or had some intrepid grad student done field research in the Starbuckses of the Eastern seaboard? Alas, nothing so interesting, but something ultimately more fascinating. Gladwell led me to a chapter in The Cambridge Handbook of Expertise and Expert Performance—the much-cited but little-read (by regular people) academic tome. "Professional Writing Expertise," by Ronald Kellogg, contains enough writerly insight to fuel a thousand Iowa workshops. And the opening words could not be more comforting: "Writing extended texts for publication is a major cognitive challenge, even for professionals who compose for a living." See, Dad! This is hard work.

Kellogg, a psychologist at Saint Louis University, tours the research in the field, where many of the landmarks are his own. Some writers are "Beethovians" who disdain outlines and notes and instead "compose rough drafts immediately to discover what they have to say." Others are "Mozartians"—cough, cough—who have been known to "delay drafting for lengthy periods of time in order to allow for extensive reflection and planning." According to Kellogg, perfect-first-drafters and full-steam-aheaders report the same amount of productivity. Methinks someone is lying. And feel free to quote this line the next time an editor is nudging you for copy: "Although prewriting can be brief, experts approaching a serious writing assignment may spend hours, days, or weeks thinking about the task before initiating the draft."

(more)