Will Every Library Of The World Squeeze Into Your House?
The internet can be a mean and vapid place, fuelled by mean and vapid people. But it also can offer vast arrays of wisdom wealth. I touch these surfaces every day in my research and my interests. And straying to those funny videos. So much is there and now, there is the promise of more. There is the desire and intent to allow access to all the libraries of the world. That is a lot of information and knowledge. We have gone far past the Royal Library of Alexandria.
The Library of Alexandria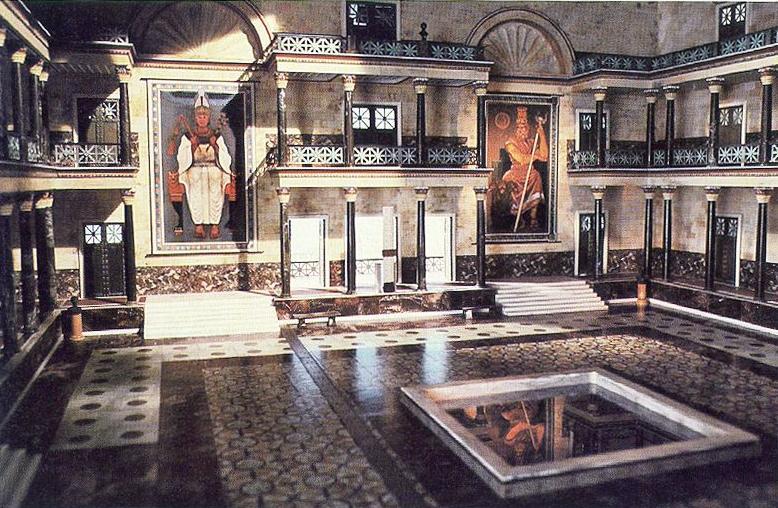 A reconstruction of the main hall of the Museum of Alexandria used in the series Cosmos by Carl Sagan.
The wall portraits show Alexander the Great (left) and Serapis (right).
* * * * * * * * * * * * * * *
Inside the Quest to Put the World's Libraries Online
by Esther Yi
In his short story "The Library of Babel," Jorge Luis Borges imagines the universe as a "total library," whose 410-page books have achieved all possible combinations of letters and punctuation. No two books are the same. Some, of course, are gibberish. But others carry the answer to life's deepest mysteries. In Borges's library can be found every thought ever had, every turn of phrase ever uttered, every masterpiece penned by Shakespeare, and even the ones that he never got to write—simply stated, everything.
Borges's fearsome fantasy builds upon a centuries-old conception of the library as an enclosed instantiation of the universe's mighty sprawl. In Advice on Establishing a Library, a classic manual on the creation of a library, the 17th-century French scholar Gabriel Naudé argued that a library "erected for the public benefit ought to be universal," observing that "there is nothing which renders a Library more recommendable, then when every man finds in it that which he is in search of, and could no where else encounter." This sort of accumulation has sometimes come hand-in-hand with power, as the historian Jacob Soll has shown with his study of Jean-Baptiste Colbert, the finance minister to the great French king Louis XIV who sought to establish a universal library and state archive because he believed it made a firm foundation for national intelligence.
From Colbert to Borges, and still onward from there: The fascination with completeness is as timeless as it is ingrained. In the last decade, the Internet has made the ambition of universality appear closer to realization than ever before: What is the Web, if not a vast collection, and an accessible one? But as with any new frontier, formidable challenges attend exciting possibilities—and nowhere has this been more apparent than in the efforts of the Digital Public Library of America, a coalition spearheading the largest effort yet to curate and make publicly available the "cultural and scientific heritage of humanity," with a focus on materials from the U.S., by harnessing the Internet's capabilities. The DPLA hopes to create a platform that will orchestrate millions of materials—books from public and university libraries, records from local historical societies, museums, and archives—into a single, user-friendly interface accessible to every American with Internet access. It will launch a prototype in April 2013. If successful, the resource has the potential to revolutionize the way information is organized and found online, to radically expand public access to knowledge, and to represent a sharp counterpoint to the model already offered by search-giant Google, whose "Google Books" program is now eight years old.
THE RALLYING CALL FOR THE DPLA was circulated in the fall of 2010. Summoned by Robert Darnton, the great book historian and current director of Harvard's library system, about 40 people came together in October at the Radcliffe Institute for Advanced Study. There had been some concern that the attendees—a diverse group hailing from different parts of the library science universe—might have trouble fusing their agenda. But after a half hour, the effort found solid ground. "We were able to come up with a single sentence: 'It's a worthy effort, and we are willing to work together toward it,' " recalls DPLA chair John Palfrey, who is also director of Harvard's Berkman Center for Internet and Society, and a former professor at Harvard Law School. The spirit of unanimity had legs: A steering committee quickly formed, and the Alfred P. Sloan Foundation, a non-profit organization that supports a variety of digital information projects, offered to fund a planning process.
(more)
http://www.theatlantic.com/entertainment/archive/2012/07/inside-the-quest-to-put-the-worlds-libraries-online/259967/
(image)
http://www.thelivingmoon.com/43ancients/02files/Library_Alexandria.html