Whither The World Of Books In This (past) Year Of Our Lord 2010
The Elephant is on every 'best' list.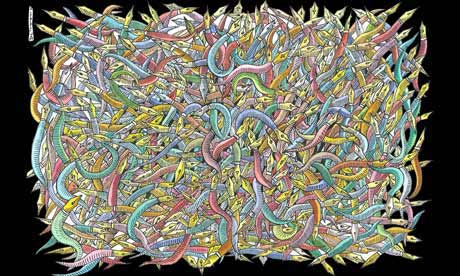 Andrzej Krauze's illustration for writers' rulesTop books news hits of 2010
No surprise on such a literate site that everybody wanted to read some of the best living authors' advice on writing and worrying about literature in the age of Twitter. Elsewhere readers were compelled by children's books, accidental cookbook racism and allegedly unsuitable dictionaries
by Richard Lea
The wind howls, the snow swirls, the seagulls are picking their way across the frozen canal outside and it's time once more to look back at the stories you've actually been reading in the year of Freedom, aka the second coming of Franzen. Pausing only to mumble the usual invocations to the gods of number-crunching, in the traditional spirit of honesty and openness, let's wrap up warmly against the chill and investigate the dizzy heights of the year in books.
Except, darn it, I've gone and wrecked it all, right there. If only I'd paid a little more attention to our top story of 2010, Ten rules for writing fiction. Take a look at line one. "Never open a book with weather," declares Elmore Leonard, and given the stern nature of his other nine rules ("Never use a verb other than 'said' to carry dialogue", "Never use the words 'suddenly' or 'all hell broke loose', "Try to leave out the part that readers tend to skip"), I feel sure that the great man would be equally unforgiving of meteorological openings in journalism.
With contributions from luminaries such as Anne Enright, Margaret Atwood, Neil Gaiman and, um, Jonthan Franzen, which run the gamut from wise to witty, spanning the territory from heartfelt to jaundiced along the way, it's not hard to see why these pithy recommendations have proved so popular. Not only do they contain more good sense than my family cookbook, but they also cast a fascinating light on the way the authors approach the task themselves. Consider Diana Athill, whose "only by having no inessential words can every essential word be made to count" seems only a whisker away from being a motto for life. Or picture Jonathan Franzen himself muttering "The reader is a friend, not an adversary, not a spectator" to himself as he picks at the keyboard, and suddenly his appearance on Oprah is a little less mysterious. ("Never use the words 'suddenly' …")
Coming up in second place is that list of the top 100 books of all time, putting in its appearance in our most-read stories for the fourth year in a row. I'll mutter Google, refer you to my previous harrumphings and move swiftly on.
(more)http://www.guardian.co.uk/books/2010/dec/31/top-books-hits-of-2010