When Two Comedians Put Kafka On Stage You'll Roll In The Aisles
A foot stomper.
Move over McIntyre: Kafka comics lead a standup revolution
Two young comedians are spearheading a more theatrical style of comedy with their stage version of The Trial
by Brian Logan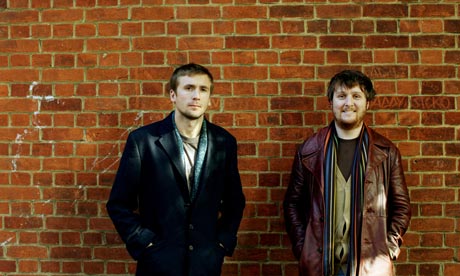 Double act ... comedians Tom Basden and Tim Key are behind Joseph K, a stage adaptation of Kafka's The Trial. Photograph: Graeme Robertson
When you think Franz Kafka, what comes to mind? Mitteleuropean gloom, perhaps. "Bowler hats, briefcases and faceless bureaucrats," as playwright Tom Basden suggests. What you don't think of is standup comedy – between Kafka and Michael McIntyre, an unbridgeable gulf yawns. But Basden is a standup, too, as is 2009 Edinburgh comedy award champ Tim Key, and they are respectively writer of, and actor in, a new version of Kafka's The Trial that hits the London stage next month. From Key and Basden, such an adaptation is, in its very unexpectedness, exactly what one might expect.
Joseph K
The Gate,
London
W11
Until 18 December
Box office:
020 7229 0706
They are, after all, leaders of a new generation of comics, who are dismantling and reconstructing what we consider standup comedy to be. Key is resident poet on Charlie Brooker's Newswipe; he has just released an album of "poetry, prose and tense conversation"; and he has published two books (mainly) of verse. Basden is also an Edinburgh award-winner, having bagged the best newcomer gong in 2007. His standup shows combine PowerPoint, Google, doodles and whimsical song. His comic political play Party (in which Key starred) made it to the West End this spring. "Between us," says Key, "we're keeping a lot of balls in the air."
Is that wise? Should two capable young comics, in the midst of Britain's current standup boom, be dedicating three months to staging Kafka in a west London pub-theatre? "Probably not," Key admits, over breakfast at their Southwark rehearsal room. "But I thought it'd be interesting."
"We're not diversifying for the sake of being diverse," says Basden. "I'm approaching this with the same determination [as in his standup] to make something really good. It's not like Minnie Driver releasing an album."
Key and Basden's instincts have always been theatrical, they tell me. The in-house philosophy of their erstwhile comedy sketch troupe Cowards (which also included playwright and comic Stefan Golaszewski) was that "even to think in terms of laughs is to belittle what you're doing", says Basden. For a comic, that's practically blasphemous. But "with anything where there's a story or an idea", says Basden, "if you're just thinking where the laugh is coming from, then the audience won't follow it. They'll just laugh at the fact that somebody is doing something funny with their leg."
According to Basden and Key, comedy should be less frivolous – and theatre could be funnier. "When I see a Shakespearean comedy and there's someone dicking around with a root vegetable," says Basden, "I just think, 'you are ruining the play. You may be making that couple of minutes more entertaining for somebody who is not listening, but you are ruining the play'." Expect a subtler brand of comedy in Joseph K, says Basden. With director Lyndsey Turner, who commissioned his script, he plans to "embrace the daftness of Kafka's book. Its atmosphere is obviously menacing, but it's also incredibly funny. Seeing it in nightmarish terms isn't always useful – and it certainly isn't what's true about it now."
(more)http://www.guardian.co.uk/stage/2010/nov/22/kafka-comics-standup-key-basden