We Should All Work So Hard - And For Those Of Us Who Do - CONGRATS!
The Elephant never stops.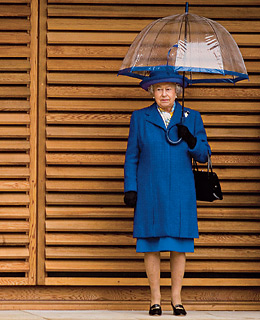 Prince Charles is busiest member of British Royal Family in 2010On New Year's Day, Tim O'Donovan, royalist and informal (but acknowledged) documenter of royal engagements, released his 2010 tally of royal engagements. In 2010, the busiest British royal was Prince Charles, who took on 585 official engagements. These included trips to Eastern Europe and India, where he opened the Commonwealth Games.
The Duchess of Cornwall carried out 243 engagements, up from last year. She accompanied Prince Charles to India and Eastern Europe but has been plagued with poor health in 2010.
Queen Elizabeth and Prince Philip not slowing down in the royal engagements lists
The Queen and Prince Philip are not showing much signs of letting up. Prince Philip, who turns 90 this year, did announce that he'd let a few of his patronages lapse this year, but still carried out 356 engagements. The Queen carried out 444 engagements: 69 more than in 2009. She visited Canada, the United States, Oman and the United Arab Emirates.
Prince William and Prince Harry are also stepping into public life; Prince William took on 73 engagements, while Prince Harry took on 53. Catherine Middleton attended her first official engagement, a charity fund-raiser, towards the end of 2010. She is expected to take an active role in the Queen's Diamond Jubilee work and the Duke of Edinburgh's birthday celebrations.
Most-traveled royals include Princess Anne and Prince Andrew
Princess Anne, often one of the busiest but most under-reported royals, carried out 514 engagements and tends to get out in public, meeting and greeting a wide variety of people. She is more often feted in local newspapers, not the national press. Prince Andrew performs the most overseas travel in the capacity of Special Representative.
Prince Edward and the Countess of Wessex conducted around 500 engagements, either separately or together. Princess Alexandra, Prince and Princess Michael of Kent and the Duke of Gloucester also perform official duties throughout the year.
Other members of the extended royal family, such as Princess Beatrice, Princess Eugenie, Zara Phillips and Peter Phillips, do not perform official royal engagements, though they do have a public life. Prince Andrew's children will have the option of taking part in the work of the "firm" once they graduate from university. Princess Anne's children are not officially royal and are considered private citizens.
http://www.examiner.com/british-royal-family-in-national/prince-charles-is-busiest-member-of-british-royal-family-2010?utm_source=twitterfeed&utm_medium=twitter
(photo)