Twitter Authors Fight BBC's Reduction Of Short Story Fare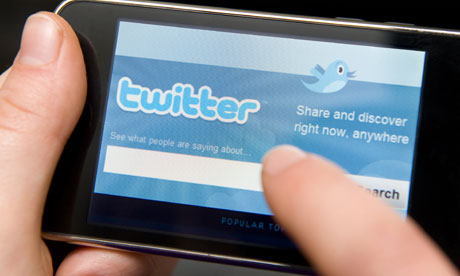 A tweeter considers their contribution. Photograph: Jonathan Hordle / Rex Features
Authors join 'tweetathon' in support of short stories
In protest at BBC Radio 4's plans to reduce its short-story broadcasts, Joanne Harris and Neil Gaiman are among authors joining Twitter users to produce collaborative tales
by Alison Flood
Authors including Joanne Harris, Neil Gaiman and Sarah Waters are teaming up to celebrate the appeal of the short story in a new campaign aimed at persuading the BBC not to cut back on its coverage of the literary form.
The BBC announced in July that it would reduce Radio 4's short story output from three a week to one a week from next spring – a significant reduction from 2008, when five short stories were broadcast weekly. Following an outcry from prominent names including Stephen Fry and Joanna Lumley, and more than 5,000 people signing a petition protesting against the cuts, the corporation said it would keep a second short story slot. But supporters are continuing to campaign for no reduction to the current volume of output, and signatories to the petition now top 6,600.
Starting today at 11am and running every Wednesday for the next five weeks, the Society of Authors is launching a weekly short story "tweetathon", which it believes to be a never-before-attempted collaboration between top authors and tweeters. It will see the authors Simon Brett, Ian Rankin, Gaiman, Harris and Waters provide the first line of a story on Twitter each week, with tweeters invited to complete the next four sentences using the hash tag #soatale to create a short story in 670 characters. Judges including the novelist Jane Thynne, dramatist and screenwriter Colin Teevan and Ian Skillicorn of National Short Story Week will select the best line each hour, with the resulting short story to be published on the Society of Authors' website.
Rankin kicked off the campaign today, with the line "I woke up on the floor of a strange bedroom, clutching a single bullet in my right hand. I couldn't see any sign of a gun". Tweeters have 30 minutes to submit their tweets, with the best line to be selected by judges before the next line is tweeted. Sentences cannot exceed the 140-character limit, including the hash tag #soatale.
(more)
http://www.guardian.co.uk/books/2011/sep/14/authors-tweetathon-short-stories