This Is Why We Should All Write Longhand
on Kindle (plus handwritten)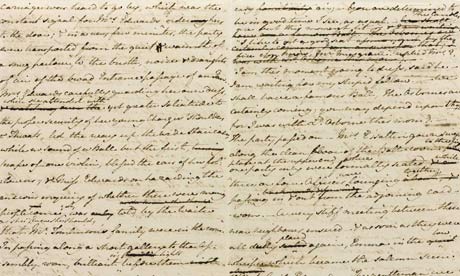 A draft of Jane Austen's novel The Watsons, which was written in about 1804 and sold at Sotheby's for almost £1m. Photograph: Sothebys/EPA Jane Austen manuscript auctioned for almost £1mBodleian library at Oxford University buys fragments of unfinished novel The Watsons that reflect author's wit
The only remaining privately owned fragment of a Jane Austen novel in the author's own handwriting has sold at auction in London for nearly £1m, three times its estimate.
The heavily corrected manuscript from The Watsons, written in about 1804, was acquired by the Bodleian library at Oxford for £993,250 at Sotheby's. The hammer went down to a round of applause, since the lot had been estimated to reach £200,000-£300,000.
The 68 pages, hand-cut and bound into 11 small booklets by the author, are thought to be a quarter of the original length. A further dozen pages, sold to raise money for the Red Cross during the first world war, are at the Pierpont Morgan Library in New York, and some others were lost from the library of Queen Mary, University of London about six years ago.
None of the original drafts of Austen's completed novels survive, with the exception of discarded chapters of Persuasion and the unpublished Lady Susan.
 (more) http://www.guardian.co.uk/books/2011/jul/14/jane-austen-manuscript-the-watsons