The Play Is *Not* The Thing As Shakespeare Becomes Novels
I can't really complain about this (though I'll sneak in an aura of disapproval). Shakespeare's plays are going to be re-written as novels. It rather (to me) defeats the point, but then I have written a novel containing Kafka's lost diary entries. So, naughty me.
And, if all the truth be told, I would find this an interesting project to embark upon. I can see attempting to turn the Scottish play into a rollicking good adventure novel with ladles of the supernatural added - right up my alley.
But still - the greatest plays in our lexicon perhaps should be left as plays. They should be left upon the boards above the cellarage. I swear. [DE]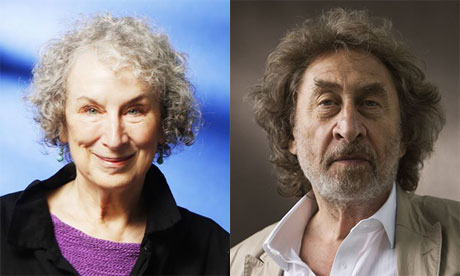 Rebooting the Bard … Margaret Atwood and Howard Jacobson are among authors giving Shakespeare a modern makeover. Photograph: Murdo Macleod for the Guardian
* * * * * * * * * * * * * * *
Shakespeare retold: Margaret Atwood and Howard Jacobson join new series
Anne Tyler and Jeanette Winterson also on board to rewrite famous plays – but author yet to be found for tragedies
by Liz Bury
Acclaimed novelists Margaret Atwood and Howard Jacobson are to write prose retellings of Shakespeare's plays as part of a series also including interpretations by Anne Tyler and Jeanette Winterson, but so far no author has taken up the challenge of rewriting one of the bard's tragedies.
Award-winning novelist and critic Jacobson has chosen The Merchant of Venice, one of Shakespeare's most controversial plays, which can be read as antisemitic. "For an English novelist, Shakespeare is where it all begins. For an English novelist who also happens to be Jewish, The Merchant of Venice is where it all snarls up," Jacobson said.
"Only a fool would think he has anything to add to Shakespeare. But Shakespeare probably never met a Jew; the Holocaust had not yet happened, and antisemitism didn't have a name. Can one tell the same story today, when every reference carries a different charge? There's the challenge. I quake before it."
(more)
http://www.theguardian.com/books/2013/sep/09/shakespeare-margaret-atwood-howard-jacobson