THE EVENTS OF ONE LIFE TIME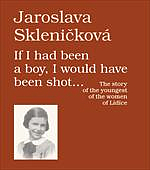 A remarkable book tells a story of resilience and courage
30-05-2010 00:01 | David Vaughan
Not many people have their first book published when they are over 80, but Jaroslava Skleničková is a remarkable exception. Her home village is Lidice, a few miles to the west of Prague, where she and her husband Čestmír, will be celebrating their diamond wedding anniversary next year. But the fact that Jaroslava is alive at all is nothing short of a miracle. Her book, which has just been published in English, tells the moving story of her life, as David Vaughan reports in this week's Czech Books.
When I went to visit Jaroslava and Čestmír Sklenička at their cottage in Lidice, the scene was idyllic, the grass green after spring rain, tulips lining the garden path and wisteria hanging from the porch. Yet Lidice is a village with a tragic past. Exactly 68 years ago, on the night of June 10 1942, at the height of the Nazi occupation, the old village was burnt to the ground. All the men, including Jaroslava's father, were shot, the women were sent to the Ravensbrück concentration camp and all but a handful of the children were gassed. Jaroslava herself survived only because she had just turned sixteen and was sent with the adult women. The title of her book, "If I had been a boy, I would have been shot…" is starkly self-explanatory:
Jaroslava and Čestmír Sklenička, photo: author "My parents' first child was a boy, but he died at just three weeks. Then came my sister, and three years later, I was born. They were disappointed I wasn't a boy, but my mother's father reminded them: 'I wanted boys too and had nothing but girls. When the First World War came, I was only too pleased they were girls.' The same thing happened with our family. If I'd been a boy, they would have shot me alongside Dad."
Jaroslava Skeničková's book is beautifully written. It begins with her recollections of a typical and happy childhood in a pre-war middle-class family. Jaroslava's father was a successful chef, and during her childhood, the family lived in the spa town of Luhačovice and then in the Slovak mountain resort of Nový Smokovec. Just before the war, the family moved back to Lidice. Here is a short extract from the book:
In Lidice I had three girl friends. Máňa Muláková was one year younger than I and went to the grammar school. The second one was Maruška Šroubková, who was the same age as Máňa. I used to go to their farm every evening for milk and, until they had finished milking, I used to play whist with her Grandfather. Sometimes I was detained so long that Daddy would be looking out for me at the gate. I used to cycle with Maruška to school in Buštěhrad. When it rained or the weather was bad, her father would harness the horses to the carriage and we travelled like duchesses. My third friend was Věnka Puchmeltrová, who was two years younger than I, but the boys were already making eyes at her. From her home – which was on top of the hill above our house – we would whizz down in winter on a sledge. The local policeman, Mr Vandrdle, would chase us off the road and declare that he was going to fine us five crowns.
An ordinary childhood is recalled with warmth and affection. But what follows is in violent contrast. Of all the people mentioned in that extract, Jaroslava was the only one to survive. Not even the buildings were to remain standing.
Lidice On Tuesday, 9th of June 1942, at nine o'clock in the evening, the Germans surrounded the whole village. They let everyone enter but no one leave. I was sleeping, aware of nothing, until Mummy woke me up about half past three in the morning, holding my clothes in her hands and urging me to get dressed quickly, that we had to go for two days to the school for interrogation. I got dressed and then, in the kitchen, I saw three soldiers, one of whom spoke Czech. He told my parents to take with them all the money they had, their savings books and jewels. I told myself how polite they were, so perhaps we should not think that they wanted to steal something. Mummy asked what about the animals – for we had a pig, several hens and ducks. He replied there was no need to worry. The animals would be looked after. So we left the house. At the gate, I stopped with Daddy. He kissed me and said: "God willing, we will see each other again Jaří, only never forget God." His words were difficult for me to grasp, for we were definitely to return home in two days' time.
Jaroslava, her mother and her sister Míla, along with the other women of Lidice were sent to the women's camp in Ravensbrück.
Suddenly, without any kind of explanation, we were brought to a foreign country, where we were forced to live under outright inhuman conditions. Despite all this, we had brought to the camp habits from home and we continued to address people not only by their surnames, but also as "Madam", or "Mrs Headmaster" when we addressed the headmaster's wife, or "Miss from the parsonage" and so on. In this we differed from the other prisoners who would address each other by their Christian names and refer to each other as "girls". We had lost all privacy, a whole village had suddenly found itself in a single large room. Here we were all on the same level – the farmer's wife and the maid, the wife of a headmaster and the wife of a miner or a smelter. They all possessed the same: only the clothes that had been issued to them in the camp.
Lidice Jaroslava was the youngest. The oldest woman in the barrack was 88. Alongside the cruelty, hunger and bitterly hard work in the camp, her book describes the many extraordinary acts of kindness among the prisoners. These are reflected in the presents that the women somehow managed to make for each other. Amazingly, some are still preserved and are illustrated in the book: a purse made from scraps of cloth or little figures carved from a toothbrush. Jaroslava's mother even compiled a cookery book on scraps of paper – meals that they could only dream of in the camp. Jaroslava, Míla and their mother survived, but many of the women died as a result of the dreadful conditions in the camp itself or during the death-march that followed. Those who did return found their homes destroyed and their husbands, brothers, fathers and children murdered. Jaroslava recalls the shock of realizing that she would not see her father again:
"I was convinced that my father would survive – a chef, I thought, would always be useful in a camp. He was healthy and strong. I was sure he'd come back. It was only when we arrived back home that relatives told me that he had died. It was awfully difficult getting back to civilian life. In June 1945 I saw the mass grave where my father was buried, but in August I was back at work in Prague, and found myself wandering around the streets in Prague, still looking for him. It was awful, the fact that he had gone."
Ravensbrück The descriptions of the painful process of adapting in post-war Prague are among the most moving in Jaroslava Skleničková's book. When she first arrived at the camp, Jaroslava had dreamed of being able to rejoin her friends at dancing classes after the war. It was a dream she was able to fulfill, but things were simply not the same.
What was the point of spinning round and round? It was not that I lacked a partner. I had a permanent one and we always had something to talk about together, but my young days, when we would go to the classes with enthusiasm, were over and I felt I had outgrown these carefree young people.
In 1947, Jaroslava met her future husband Čestmír. For a long time they were just friends, but – at least from his point of view – it was love at first sight. "I fell in love with her eyes," he tells me with a broad smile. Over sixty years later, now parents and grandparents, Jaroslava and Čestmír still give every impression of being in love. It was their close and trusting relationship that made the book possible.
Jaroslava: "It wasn't until I was 70 that I was first able to write down my memories for my children and grandchildren, because when I first came back from the camp I didn't want to talk about it. But later, when I was 80, I saw how fascism was growing again here in the Czech Republic, and also abroad, in Germany, maybe even England. I felt we had to do something about it. My husband had the idea of publishing my memories as a book."
Čestmír: "We had lots of arguments about it. My wife thought the title sounded too drastic. But when we asked our daughter and granddaughter, they said the original title – 'Why I cannot forget' – was not strong enough, and that the title really should give a sense of what happened."
So the title, "If I had been a boy, I would have been shot…" remained. First of all, the book was published in Czech, and then in a German translation. In an interview for Czech Radio, Jaroslava and Čestmír happened to mention that they would also like to publish an English edition.
The presenter who had carried out the interview was my colleague Tomáš Černý. He appealed to listeners who might be willing and able to translate the book – even without being paid. An answer came almost straight away from an English teacher called Tamara Volejníková and her mother, the translator Lucy Doležalová. Now in her 80s, Lucy Doležalová is a native English speaker. She came to Czechoslovakia from England just after the Second World War with her Czech husband, who himself, aptly enough, had been one of the Czechs fighting against Nazi Germany from Britain. It seemed quite logical for Tamara and her mother to translate the book together:
Lidice memorial "My mother has been living together with me and my family for the last two years, so I thought that this would be a great opportunity for us to work together, because she used to be a translator, but can't use a computer. So I contacted the radio."
The outcome is the English edition of the book, a deeply human account of an inhuman time. This beautifully produced little book, in hardback and complete with photographs and maps, can be purchased through the Lidice Memorial website: www.lidice-memorial.cz.