The Concept Of Copyright Might Become Moot
Copywrite still in my grasp.
Copyright comes a cropper in the digital age
Public-domain campaigners have the holy grail of publishing in their sights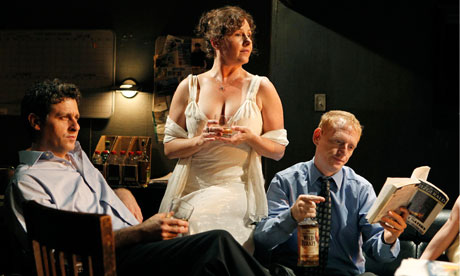 Gatz at the Public Theatre in New York. Photograph: Joan Marcus/AP
The big stage hit in America last year was a novel, "the most remarkable achievement in theatre this decade", according to the New York Times. Gatz was a word-for-word presentation of F Scott Fitzgerald's jazz age masterpiece, The Great Gatsby, by an experimental group, the Elevator Repair Service.
Artfully staged to dramatise a group of office workers falling under the spell of Fitzgerald's hypnotic prose, Gatz transmitted its magic to successive audiences who became swept up in the heady rush of falling in love with a book. A six-hour marathon at the Public Theatre, Gatz became a sell-out, the hottest ticket off Broadway.
But it nearly wasn't. Before it reached Manhattan, Gatz had been touring as an out-of-town production for months, while the Fitzgerald estate's lawyers wrangled with the show's producers over copyright permission.
As of 1 January, however, the issue has become moot. The Great Gatsby's term of copyright is up; the novel is now in the public domain and will join such American classics as Moby-Dick and The Scarlet Letter, books freely available to one and all – readers, publishers and producers alike.
The Fitzgerald lawyers were obstructive, but they were only doing their job. That's how literary estates behave. So much is at stake that copyright holders sometimes go to great lengths to protect their property.
The DH Lawrence estate, for example, commissioned a brand new, scholarly edition of Lawrence's work, effectively to re-copyright its texts. The Observer's most famous literary editor, Terence Kilmartin, was also caught up in copyright shenanigans when he undertook a revision of Scott Moncrieff's translation of A la recherche du temps perdu, a manoeuvre designed to foil rival editions.
Copyright law is subject to international variations. In Japan, New Zealand and Taiwan, the term of copyright runs for 50 years after the author's death; in the Yemen it's 30. In the UK, which has a fairly standard ruling (complicated occasionally by EU directives), copyright applies for 70 years from the death of the author. In America, the copyright term is also 70 years, but this only applies to works published since 1978.
Even so, in the age of "free content", not everyone accepts these norms. In California, there's a radical movement that regards copyright law (of all kinds) as a grotesque – even sinister – restriction on the unfettered traffic of knowledge. Led by James Boyle, author of Shamans, Software and Spleens: Law and the Construction of the Information Society, the Free Culture Movement wants to toss copyright legislation into the dustbin of history.
(more)http://www.guardian.co.uk/books/2011/jan/09/robert-mccrum-copyright-law-kindle