Stephen King Tells The Rich To BUCK Off And Pay Taxes
OK - I misplaced a letter. Fue me. Yesterday, the character of a dead author was having a high old time with the real Queen Elizabeth. And now, a real author (famous and rich himself) is making a political and social statement in the USA. He has my vote.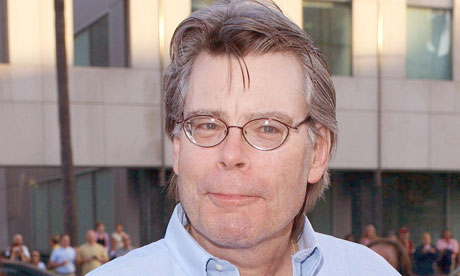 'Baby rich' … Stephen King. Photograph: Stewart Cook / Rex Features
* * * * * * * * * * * * * * *
Stephen King: I'm rich, tax me
In an expletive-filled condemnation of America's tax system, the bestselling novelist, who donates $4m a year to charity, says wealthy Americans have a 'moral imperative' to pay higher taxes
Bestselling novelist Stephen King, who gives away $4m (£2.5m) a year in charitable donations, has issued an expletive-filled call to America to increase the rate of tax paid by the country's rich.
King himself currently pays taxes of around 28% on his income, and at a recent rally in Florida wondered publicly why he was not paying a higher rate of 50%. You're unhappy about it? "Cut a check and shut up," was the response from his listeners, the author writes in a piece for The Daily Beast entitled Tax Me, for F@%&'s Sake! "If you want to pay more, pay more, they said. Tired of hearing about it, they said. Tough shit for you guys, because I'm not tired of talking about it. I've known rich people, and why not, since I'm one of them? The majority would rather douse their dicks with lighter fluid, strike a match, and dance around singing 'Disco Inferno' than pay one more cent in taxes to Uncle Sugar."
(more)
http://www.guardian.co.uk/books/2012/may/01/stephen-king-tax-the-rich