Sad News From Prague: Václav Havel Dies At 75
Václav Havel was one of those rare breed of artists who have great success in a more worldly profession. He helped rally Czechoslovakia to rise against a Soviet-imposed government, then ruled the country which peacefully become The Czech Republic. Before, in the midst of, and after this life, he was also a respected playwright. His latest (and last) venture was turning one of his plays into a movie. A full and accomplished life.
* * * * * * * * * * * * * * *
Vaclav Havel, former Czech president, dies aged 75
Dissident playwright who led velvet revolution and became first post-communist Czechoslovakian president dies
by Julian Borger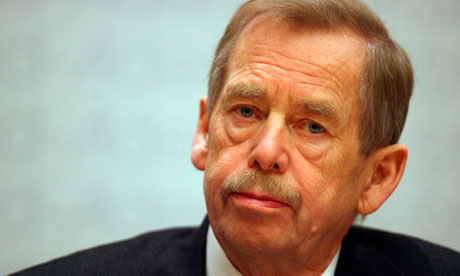 Vaclav Havel, the former Czech president, in 2007. Photograph: John Macdougall/AFP/Getty Images
Václav Havel, the dissident playwright who led the Czechoslovakian "velvet revolution" and was one of the fathers of the east European pro-democracy movement that led to the fall of the Berlin wall, has died aged 75.
Reports quoted his assistant, Sabina Dancecova, as saying Havel died at his weekend house on Sunday morning, and the news was announced on Czech television during an interview with the current prime minister, Petr Necas.
Necas called Havel "the symbol of 1989" and said he did "a tremendous job for this country".
Havel's state funeral is likely to draw a crowd of leaders, artists and intellectuals from around the world. Havel was a renowned playwright and essayist who, after the crushing of the Prague spring in 1968, was drawn increasingly into the political struggle against the Czechoslovakian communist dictatorship, which he called Absurdistan. His involvement in the Charter 77 movement for freedom of speech won him admiration around the world.
(more)
http://www.guardian.co.uk/world/2011/dec/18/vaclav-havel-dies?intcmp=239
(obituary)
http://www.guardian.co.uk/world/2011/dec/18/vaclav-havel?intcmp=239