also on Kindle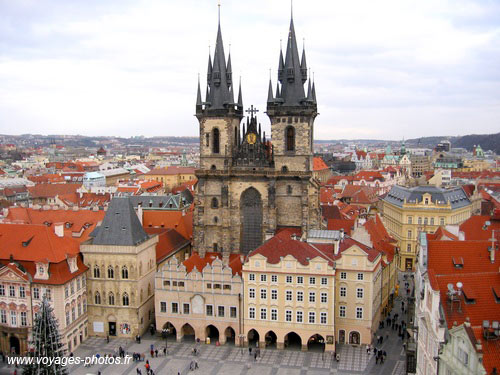 The Church of Our Lady of Týn has a gothic style and is located in the old city. Its steeple is more than 80 metres tall.
A poetic guidebook to Pragueby David Vaughan What does Allen Ginsberg have in common with the great Chilean poet, Pablo Neruda, Turkey's Nazim Hikmet, and the Czech Nobel Prize winner, Jaroslav Seifert? The answer, rather surprisingly, is Prague. In this week's Czech Books, David Vaughan tells us more about an irresistibly eclectic new poetry anthology. 
Many of you who are interested in Czech literature will have come across Stephan Delbos, the culture editor of the Prague Post. It was his idea to put together an anthology of over a century's worth of poetry about Prague or inspired by the city. He has come up with an impressive collection, titled "From a Terrace in Prague" – itself a quote from one of my favourite poets, Ivan Blatný – and it offers a rich portrait of the city: often evocative, sometimes provocative, and featuring some of the great names of world poetry. Should we need any proof of Prague as a literary muse, this book offers it. Stephan Delbos told me more about the anthology, at the same time offering a flavour of its poetic riches.
"It's designed basically as a poetic guidebook to the city of Prague. Literally it's a collection of 120 poems covering 1888 to 2010, all translated into English from 16 languages, and all poems about Prague or taking place in Prague."
So you've been eclectic in your choice…
"Yes, very eclectic. One of the main ideas behind the anthology was to establish Prague as an international destination for poets and a place that has really inspired an unparalleled number, and diverse group, of poets over the 20th century and even now into the 21st."
Can you give us a taste of the poetry inspired by Prague through the years?
"I'll begin with a piece by Svatopluk Čech, which is the first poem in the book. It's a fragment from a longer poem called 'Prague'. One of the critical narratives that I established in the introduction is the way that poets' relationships to the city have changed over the course of time that the book looks at. So this poem from 1888 is at the end of the 'revivalist' era and so you can hear that Čech is really trying to get the public to be enthusiastic about the city and consider it as beautiful as any other European city:"
Behold, Prague! – Vision sparkles, blearing – Prague!
The name alone sings. The mere sound of it
rapturously gets down into the strings of the Czech spirit
and sets the heart beating a thunderous throb.
Let foreign pilgrims take your modest measurements
and scorn, Prague, your graying robes:
to us in your beauty, ancient gloom
you are luscious Naples, you are proud Rome!
So that's quite an advertisement for Prague from the late 19th century, and I should add that it's in your own translation.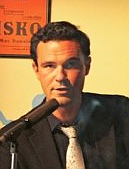 Stephan Delbos
"Yes, it is. I did a number of translations for the book. Hana Ondráčková helped with that translation."         (more)  http://www.radio.cz/en/section/books/a-poetic-guidebook-to-prague