Novels With Hundreds Of Pages And Readers Galore
I gotta say that my novels end when the ending appears. I have not created a one thousand page-turner and I don't see it in the cards. Maybe a trilogy counts (I've written one and a half of them), but I doubt it. I have written more than one book about the same set of characters, but they are still individual books. Although two of my all time favourite books (The Magic Mountain by Thomas Mann and Ulysses by James Joyce) are indeed long, they don't crack the 1,000 page barrier. Sometimes (contrary to popular advertising) it doesn't matter how long it is.
* * * * * * * * * * * * * * *
The craze for long books goes on and on and on
From Haruki Murakami to George RR Martin, both commercial and literary fiction have fallen in love with epic length
by John Dugdale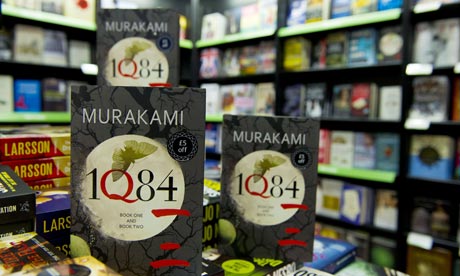 Copies of Haruki Murakami's 1Q84 on sale in London. Photograph: Facundo Arrizabalaga/AFP/Getty Images
Has there ever been an autumn season so rich in fat books? George RR Martin's latest fantasy whopper, A Dance with Dragons (1,040 pages), was swiftly followed by Neal Stephenson's sci-fi epic Reamde (912); and their efforts will be joined on Tuesday by Stephen King's 11.22.63, depicting a time-travelling teacher seeking to prevent John F Kennedy's assassination, which, while failing to match the 1,074 pages of King's previous novel, Under the Dome, still asserts that he can keep up with the upstarts in reality-altering fiction by coming in at 740 pages.
Literary authors have contributed to this bumper harvest too, with Haruki Murakami's 1Q84, itself not lacking in sci-fi elements, doing most to destroy forests with a three-volume combined pagination just short of the virility-verifying 1,000-page marker. Also in autumnal lit fic, Adam Levin's The Instructions and Peter Nadas's Parallel Stories both managed to produce 1,000-plus pagers. And that's what's changed about the size issue today – it cuts across publishing's class system.
A lot of commercial fiction has always been weighty, from Victorian three-decker novels via Gone with the Wind to Harold Robbins and Jilly Cooper.
(more)
http://www.guardian.co.uk/books/booksblog/2011/nov/04/long-books