Mark Twain's Naked Eve Diary No Longer Banned In Massachusetts
One wonders how The Bible was ever allowed.
* * * * * * * * * * * * * * *
Mark Twain story formally 'unbanned' in US
Eve's Diary, embargoed in 1906 over its illustrations, formally restored to library to launch Banned Books Week
by Alison Flood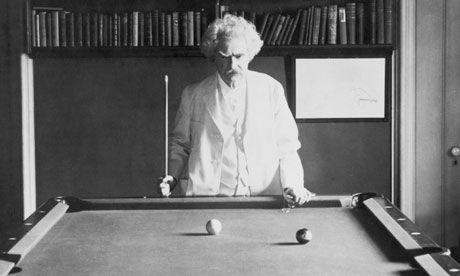 Mark Twain: "The deep unconscious irony of it delights me." Photograph: Bert Underwood/Getty Images
The return to library shelves of two controversially banned novels – Mark Twain's Eve's Diary and Kurt Vonnegut's Slaughterhouse-Five – marks the start of America's annual celebration of prohibited literature, Banned Books Week, on Saturday.
Twain's comic short story told from the perspective of Eve was banned from Charlton Library in Massachusetts in 1906 after its trustees objected to illustrations of a naked Eve – or as the New York Times put it at the time, "her dresses are all cut Garden of Eden style". When Richard Whitehead became a trustee of the library in 2008, he stumbled across the century-old controversy and decided to track down a copy of the banned book, complete with illustrations.
"Knowing that Banned Book Week was coming up in September [he] proposed the idea of having an official 'unbanning' of the book," said the library's director Cheryl Hansen. "On Tuesday, September 20, 2011 the board of library trustees unanimously voted to unban Eve's Diary. I think that Mark Twain would be very pleased and I'm sure that he would have something humorous to say about it." At the time, Twain wrote in a letter that "the truth is, that when a Library expels a book of mine and leaves an unexpurgated Bible lying around where unprotected youth and age can get hold of it, the deep unconscious irony of it delights me and doesn't anger me".
Eve's Diary's reinstatement follows the return of Kurt Vonnegut's classic title Slaughterhouse-Five and Sarah Ockler's young adult novel Twenty Boy Summer – about two girls coming to terms with the sudden death of a loved one – to a school library in Republic, Missouri. Unlike the Twain title, these two novels were first banned not a century ago but earlier this summer, after a local resident called them immoral and said their presence on the school curriculum and in the library was "unacceptable, considering that most of the school board members and administrators claim to be Christian"
(more)
http://www.guardian.co.uk/books/2011/sep/23/mark-twain-story-formally-unbanned