Kafka's "The Castle" Chosen As Guardian 'Good Winter Read'
I would take note of any book by Kafka, chosen for anything, and make a comment. I am - as may have been noted - a devoted fan of all things Kafka. That might explain my novel devoted to him. However, I am doubly interested in this commentary by William Burrows because The Castle is one of my favourite works by Kafka. And I won't quibble with this pithy comment about Kafka by the reviewer: "Kafka is the syringe that draws out the reader's blood, and then the pen that writes in it." That in itself is top notch Kafkaesque.
* * * * * * * * * * * * * * *
Winter read: The Castle by Franz Kafka
Reader William Burrows finds that K's struggle with bureaucracy is only the surface of a story that plunges into the deep end of pain, aloneness and the longing for companionship
by William Burrows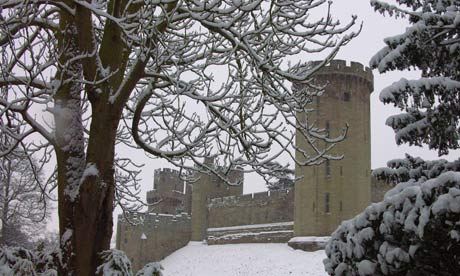 Kafka's snow-bound castle is almost unbearably evocative
The Castle is Kafka at his most beautiful and, perhaps, his most emotional. The Trial and Metamorphoses are full of their own depth, and their own complicated sadness, but they don't strike the heart with the same poignancy as Kafka's final, unfathomable novel. The Castle is the story of K, who claims to be a Land Surveyor, sent by someone unknown, for some purpose unknown, to the Castle, itself an unknown quantity. What K is supposed to accomplish we never discover. Rather than a narrative that moves towards any substantive satisfaction, Kafka presents the reader with a series of frustrations, K trying again and again to progress his work, but never moving beyond the Castle's snowy environs.
(more)
http://www.guardian.co.uk/books/2011/dec/22/franz-kafka-winter-reads?newsfeed=true