"Kafka v Kafka" - Play Review and Author Interview
I have not seen the play but I certainly applaud the fact that Kafka's father gets a fair shake. A tough and unrelenting old bastard he might have been, but it would be no cheerful odyssey to have to deal with Kafka.
Kafka at the age of five
* * * * * * * * * * * * * *
Theatre review: Journey along timeless emotions – Kafka v Kafka
by Mark Worgan
Notoriously difficult to read, Franz Kafka's works contain the fantastical, are intensely personal and mainly angst-ridden. Howard Colyer's Kafka v Kafka is derived from a 102-page invective-filled letter written by Kafka to his father – not the most promising source material for a night at the theatre.
Yet if you've ever been a child who wants to do anything but emulate your parents then this play will resonate. If you've ever been a parent who's wondered just what exactly you did wrong it will lead you to contemplate. Like all great writers, beneath the intellectual exterior Kafka addresses emotions that we all experience. In his play, Colyer brings these emotions to the surface in a way that hits very close to home.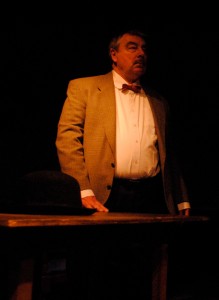 Gareth Pilkington as Hermann Kafka. Photo: Anna Nguyen
The clash between father and son is the play's centerpiece, dramatising the difficulty of communicating between generations. It is a struggle of wills between a strong, self-made man and an intellectual boy/adult: neither quite understands the other, and yet a mutual reliance exists. Kafka struggles to reconcile the fact that most of his work and life has been spent in opposition to this man, his father, with the fact that he has made him who he is. Hermann Kafka, played by Gareth Pilkington, depends on Franz as a tangible life achievement and pleads that he did what he thought best and that Franz (Jack Wilkie) is his own man.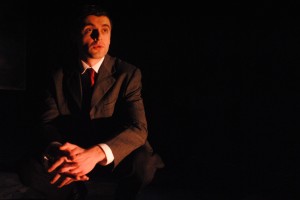 Jack Wilkie as Franz Kafka. Photo: Anna Nguyen
The other interplay is between Kafka's romantic idealism and the particular type of conservatism embodied by his father. It is the conflict between a man in love with certainty and tangible things, and a son in love with ideas, although Colyer says that this dynamic is unintentional. This is a powerful undercurrent given the action's historical context in 1920s Europe, a world where nothing was certain and ideas thrived, until extreme conservatism struck back with infamous consequences, as recognised in the sad epilogue of Ottle, Kafka's sister.
(more)
http://www.theupcoming.co.uk/2012/01/20/theatre-review-journey-along-timeless-emotions-kafka-v-kafka/